A befitting price of nature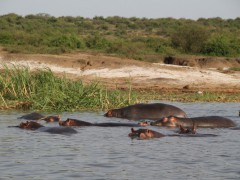 Uganda's nature is priceless. But, can we attach a monetary value on nature? Yes and no. If I conserve forests, pay me per tree planted or per river bank protected so that I can buy my essential needs and be as comfortable as those who misuse nature. That's one argument.
On the other hand, nature and what we get from it is priceless because I cannot buy rain, or fresh air from forests which is a free gift of nature. But, can attaching a price to a lake or natural forest help us understand more the loss we may suffer if these resources are destroyed?
The desire to find answers to this question led me to two friends. One is an environmental reporter. Another is a businessman. They both agreed it is not possible to put a befitting monetary value on nature.
Nature is priceless, said the reporter.  "What price can you compare to nature?" The businessman wondered, "I think it is people's responsibility to take care of nature in a sustainable way."
But, pricing nature is an advantage and disadvantage. It is a disadvantage in that if there is no economic value put on a given natural resource it is more prone to abuse. This is because capitalism does not respect those services that are free and common to everybody. It is a fertile ground for private sector to grab from nature and then throw the problems for all us to suffer. Well, I don't know whether you agree.
The idea of putting a price to nature can be traced in the Rio+20 conference in 2012 where a group of investors argued that: "If we price everything nature gives us, companies would think twice before destroying them". This idea is complex to execute because natural resources are gifts of nature; not created by man and no money can really buy any of them.
Attaching a price on nature cannot simply work in Uganda because in many communities, natural resources, including land in some instances, are communally owned. People just have to be taught the value of conserving nature for the ecological and economic benefits they derive from it.
Ugandans derive enormous economic and health value from nature. The food we eat is largely organic; implying nature plays a major function in its production. Uganda being an agro-based economy, nature for us is invaluable. Our livelihoods depend on it in many ways.
Uganda's national parks, lakes, rivers, forests, mountains, et cetera are worth billions of dollars to our economy. These gifts of nature sustain our lives and life depends on them. For example, with increased political stability in Uganda tourism has become the country's goldmine. The tourism attractions are fruits of nature.
Statistics from the government of Uganda show that "500,000 foreign tourists spent at least one night in Uganda in 2012, and nearly 75,000 of these were leisure or cultural tourists.  Their total expenditure generated Shs 2.7 trillion (about $1 billion) of GDP – equivalent to 38% of exports and 5.6% of 2012 GDP, including revenues to government from indirect taxes of 0.5% of GDP."
The price to protect these resources is in investing more in the human resource of agencies charged with the responsibility of protecting nature. This calls for emphasis on training game rangers, environmental workers and educating communities on the benefit of protecting the country's natural resources. "Nature is priceless because there is no monetary value that matches the benefits it bestows upon us." Our health as humans is largely dependent on nature. In light of this, there can never be a better price of nature than a people committed to protecting their source of livelihood and sustainability –nature.
.
Tags: Africa, Economy of Nature, ENVIRONMENT, nature, Uganda