A Female President, Why Not?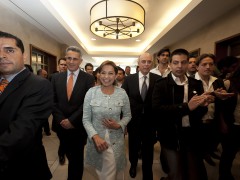 "Don´t cry for me Argentina, the truth is I never left you," sings Madonna in Evita, an award-winning film that tells the story of the first female president of Latin America, María Eva Duarte. Over recent decades, Bolivian Lidia Gueiler de Guevara, Nicaraguan Violeta Barrios de Chamorro, Panamanians Mireya Moscoso and Laura Chinchilla, Argentinian Cristina Fernández de Kirchner and Brazilian Dilma Rousseff – recently named the third most powerful woman by FORBES – have proved that the presidential role in Latin America today is a ground for equality.
It seems that the times in which the term "lady" was a synonym for "fragile" have changed and now we live in a world in which feminism is shifting towards meaning something very strong, perhaps "iron" or "steel". Even in the characteristically "macho" country of Mexico, where for many years a mustache was required to succeed, the possibility of having a woman president has appeared.
Josefina Vázquez Mota, the former Mexican Secretary of Public Education and the current presidential candidate of the right wing political party (PAN), launched her campaign as an underdog in light of the other candidates. Nevertheless, her campaign favoring women rights, equality, transparency and dialogue has been complemented by her empathic "motherly" image and a clean political background.
Married and a mother of three children, Josefina is the best example of what women can do. She has found the way to be a successful politician and economist without forgetting the enormous importance of reflecting good values through strong familiar bonds.
According to the polls, the outcome of the Mexican elections – to take place in July – is unpredictable. The bad image left by Josefina´s party due to the violence produced by the so-called war on drugs and the inefficacy of the PAN to create a real change in the two last presidential periods –along with the "Mexican machos"– represent an obstacle for this candidate to win the elections. However, it is still possible that the Mexican people will realize in time the magnitude of change that the decision of electing Josefina could represent.
"They would vote for her because the time has come, not only in Mexico, but in all the world, to show that women are capable of higher political positions. Let's stop these absurd prejudices about a society that's yet unprepared for a female president, yes, a female one." claims Guadalupe Loaeza, a famous Mexican writer.
Unfortunately, not everyone thinks the same. Considering that out of every 100 women in Mexico, 67 suffer from everyday violence and only 41 participate in economic activities, it is clear that equality is not yet a consistent trend in Mexico's society. Thus, female participation in governmental positions is still barely existent.
The Mexican "macho" is unfortunately still very present among us, but finally we have the possibility of changing our way. It may be even quite possible that electing a female presidency could create a change in the attitude of the country; however this can only happen if we are flexible and keep our minds open to new possibilities, such as accepting the inherency of the basic gender rights.
After knowing great women such as the previously mentioned Latin American presidents, or other distant great figures such as Angela Merkel, Margaret Thatcher and Hilary Clinton, it seems that it might be a good idea to try and accept for once, that only with equality we will be able to succeed in searching for the best possible future in Mexico.
Daniel Kapellmann is a member of Global21, a student network of international affairs magazines and a partner of FutureChallenges.
Tags: 2012 Mexican elections, equality, Female presidency, human rights, Mexico, women