A New Step for Brazilian Democracy?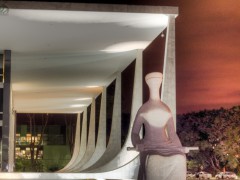 The ongoing trial of several high-ranking public officials in Brazil involved in the mensalão scandal – a widespread corruption scheme – has caught the attention of the Brazilian and international media. In particular, The Economist has covered this issue in pieces that provide a balanced background for the non-Brazilian reader, while also going further and keeping track of the so-called "trial of the century."
The judgment, which has so far led to the condemnation of figures long deemed untouchable thanks to their political cachet, is celebrated as an important new step in the consolidation of Brazilian democracy. Like in many developing countries, Brazilian legislation and institutions have sewn a veil of democracy under which corruption has been able to prevail; at last, it seems, the country has had the courage to pierce it.
Indeed, impunity for those accused of mishandling the State's finances for their own interests has all but eroded people's belief in the rule of law, Brazil's frailest pillar of democracy. This is especially relevant among the upper classes, who see their social status and economic capacity as an escape rope from mundane preoccupations such as . . . complying with the law. In view of the historical impunity of politicians and businessmen engaging in acts of corruption, civil society has absorbed these norms and replicated them on a smaller scale.
For instance, as a recent graduate who enjoys the cultural scene of São Paulo, I am still coming to terms with the fact that I no longer benefit from substantial student discounts established by law for all cultural services. However, this does not seem to affect most of my friends, graduated and working in dynamic industries. Proudly holding (false) copies of college IDs or the like, they tranquilly continue to claim the discounts.
The student discount issue does require a finer understanding of cultural policies (or lack thereof) in Brazil, but it is nevertheless representative of the pervasive effect of corruption in society. Will the judgment of the mensalão scandal help void the chronic corruption that encompasses Brazilian society?
On the one hand, such a clear contribution to the consolidation of democracy has refreshed the optimism of those who long to live in a fairer society, one in which government, businesses and civil society abide by the rule of law. On the other hand, many have come to see the trial as a political maneuver seeking to punish a single political party – a partisan perspective that, regardless of political sensibility, essentially reduces the judgment to another battle of inflated egos in Brazilian politics and yields no effect on society at large.
Brazilian and international commentators are all aware that this is not the only corruption scandal affecting Brazilian democracy in recent years. However, in a country with such a limited history of transparency and accountability at all levels of government, the mensalão trial should be seen as a starting point for a new step in Brazilian democracy – one in which the replication of corrupt behavior, from the highest spheres of government to commonplace activities, is transfigured into a positive chain of higher ethical standards, restoring the rule of law and faith in justice.
Tags: accountability, brazil, Civil Society, Corruption, Governance, mensalão, Transparency