African Innovation Hubs Promoting Innovation & Technology on the Continent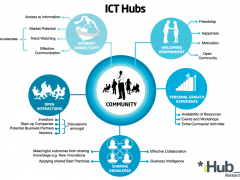 Africa is a massive yet diverse continent, with diversity not only in ethnic cultures but also in geographic regions, which offer a variety of climates, vegetation and topographical arrays. However, perhaps more importantly these various regions also offer different investment and economic opportunities.
In recent years certain African countries have embarked on a path of economic development, which has seen the development of regional hubs. The future of Africa is indeed "mobile". Mobile applications for education and healthcare play a major role in all the trends that experts forecast up to the year 2020 – Gudrun Porath (Africa's Mobile Future Presentation Slides)
Mobile devices are quickly becoming the main tool for Internet access in Africa. Opportunities are opening to young people with high tech skills such as software engineering and development of mobile applications for local solutions.
Many of these skills are being nurtured by Information Communication (ICT) hubs, where technology-oriented individuals gather and collaborate.
According to the iHub in Nairobi, Kenya
An ICT hub is a space where technologists congregate to bounce ideas around, network, work, program and design. This is achieved through an enabling environment where community of tech entrepreneurs can grow and innovative ideas can be born from collaborations and the atmosphere of the co-working space.
The iHub is an open innovation space with a 20MB internet connection, networked and Wi-Fi enabled, and it's freely available to any tech person in Nairobi to use once they become registered members and are committed to working/using the center for working on their innovative and entrepreneurial ideas.
I was very privileged to return to the iHub in February 2012 when I visited Nairobi to meet the team behind the Ushahidi project which was been operated from the iHub. My first time at the iHub was during Maker Faire Africa which happened in September 2012 in Nairobi, Kenya.
Whilst touring and meeting people at the iHub during my visit, I got to learn about the AfriLabs – a network organization of all innovation and technology hubs/co-working spaces in Africa. AfriLabs seeks to build on a common vision of promoting technology as a platform for entrepreneurship on the continent. Below is the list of all active 14 labs/hubs across 10 countries on the continent:
In Ghana, the Meltwater Entrepreneurial School of Technology – MEST is home to all interested in technology and software entrepreneurship. They provides a fully sponsored training and mentoring program in software development and entrepreneurship for aspiring African software entrepreneurs.
The technology hubs in most African countries provide a working environment for those with new, creative and innovative ideas, to create new things, and most importantly are a place for people to meet like-minded individuals they can share ideas and develop products with.
How is technology and innovation been treated in your location? Are co-working spaces and innovation hubs springing up? What is the future of innovation in your location as compared to the African market?
Tags: Africa, economic development, iHub, Innovation Hubs, Kenya, Maker Faire Africa, Meltwater Entrepreneurial School of Technology, MEST, Nairobi, Technology Hubs, Ushahidi