Ángel de la Independencia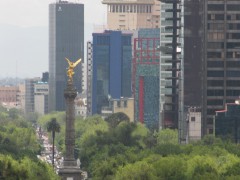 As part of our  coverage on "The New City" we asked our bloggers for some pictures from their cities. Are there any places in their cities that are prime examples for sustainable urban living? But it could also be a negative example in order to show how a city should not look like.
The "Independence Angel" is a monument that symbolizes the Mexican nation. In this street called "Reforma" you can find some of the tallest buildings, lots of vehicles and a great place to walk for a while. Also when the Mexican football team plays you can go there and get crazy.
Tags: green city, sustainability, urban living, urbanization