Ani Choying Drolma: Breaking stereotypes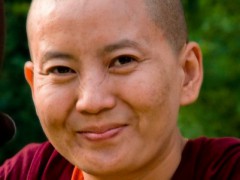 Gifted with a soulful voice, Ani Choying Drolma widely known as the Singing Nun travels the world, performing live shows of modern spiritual songs. These are mainly Buddhist chants, prayers and inspirational songs about compassion, hope and sharing in Nepali and Tibetan languages. It helps her raise funds for her humanitarian efforts which include education for child nuns, elderly care, provision of medical and health care services for the underprivileged and homeless in Nepal.
I was lucky to have met her at a programme in Delhi recently.  Her calm and composed state bears no inkling of a woman who has gone through a traumatic childhood in the lap of poverty and violence . Coming from a poor family, whose roots were in the Kham region of Tibet, Ani grew up in the 1970s in Boudha, Kathmandu which is like "a little bit of Tibet in exile."  Her parents had fled to India separately with their respective families, in the mid-fifties after the Chinese invasion of Tibet. They got married there and then eventually moved to Kathmandu.
In her autobiography Singing for Freedom she refers to  the fear of being forced to marry a man "who could become her father." This led to her joining a monastery- Nagi Gompa at the age of 13 as a means of escape, eventually proving to be  very rewarding for her. The overall guidance of her teacher there, Tulku Ugyen Rinpoche   steered   her dedication to learn and  practice  singing.  Ani was also fortunate to meet  Steve Tibbetts– an American guitarist at the Monastery,  who helped  get her voice recorded in 1997 and come out  with an album Cho. She sang on stage for the first time in 1998 in Minnesota, United States during a one month concert tour.  Requests for  more concerts followed in Europe and other parts of the US. Over a period of time her fame spread to South East Asia, UK and Australia as well. She first rose to stardom globally through Tibetan chants. It was only from 2004 onwards that she became popular in Nepal.
Ani's various works of philanthropy are commendable. Arya Tara School one of her first initiatives was established in 2000 by The Nun's Welfare Foundation(NWF), a non- profit organization also set up by her. It is home to approximately 60 young nuns in the age groups of 8-23, belonging to some of the poorest and most remote areas of Nepal. The nuns not only learn Buddhist philosophy but Nepali, Tibetan and English languages, besides computers, science, maths, social sciences, environment population and health studies, arts, craft and music as well. It aims to equip nuns to serve their communities in a professional and humanitarian capacity.
She helped establish a Kidney Hospital- Arogya Foundation in Kathmandu in 2010, after she  lost her mother to kidney failure, this mission being  very close to her heart. It is the first hospital in the country to have an ultramodern Human Leukocyte Antigen (HLA) Laboratory that enables greater efficiency and validity of test results, at much lower costs than those in the labs of neighboring countries. It has haemo-dyalysis machines and  Tacrolimus test  facilities too for treatment of patients.  Ani's dream of establishing a hospital for patients of organ failure largely resulting from kidney diseases  has materialized. The hospital provides services and infrastructure (which was absent in Nepal) to the less privileged at affordable prices.
Besides these initiatives Ani supports many charities. The  Shree Tara Band- the first all women instrumental band in Nepal,  Red Tara Travels and Tours- a travel agency run by nuns to guide tourists for various religious and cultural tours and sites,  and an old age home for elderly women to name  a few. She also collaborated with UNICEF Nepal for a Public Service Announcement  to fight violence against children in 2013 and  was appointed by the organization as the first national ambassador for the country this year. She will become the voice of children and adolescents so as to protect them from violence and help them grow up in a safe environment in order to become responsible citizens.
Called a rebel with a cause, criticized for not conforming to  Buddhist traditions, Ani believed in following her  heart  from a very young age and  thinking out of the box. She  has an adopted son, drives a jeep, dines at restaurants, loves to listen to western music with Nora Jones, late Whitney Houston, Bonnie Raitt and Celine Dion being some of her favourites, cries over Bollywood films, enjoys doing the salsa and is fond of shoes. Criticism does not deter her larger mission in life of always  serving others. She carries on her work with much conviction and positive energy.
Tags: buddhist chants, children, education, education for nuns, health care, inspirational songs, music, philanthropy, singing nun, song, unicef, violence against children, women