Austerity! What Austerity?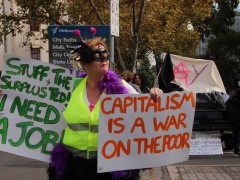 With an unemployment rate of around 5%, low inflation, low debt, low interest rates and a 'AAA' credit rating, the Australian economy has been the envy of many other developed nations since the global financial crisis (GFC) struck in late 2008.
In 2009 the Rudd Government famously warded off an economic downturn through its stimulus packages, the economic equivalent of flooring the accelerator in a bogged car. In the short term, it worked and the economy pulled itself through the mire. However, once again, storm clouds are appearing on the horizon.
Since coming to power in 2007, the Australian Labor Party (ALP) has been unable to deliver a surplus, under the leadership of either Kevin Rudd or Julia Gillard. Former Treasurer Wayne Swan famously promised one this year, however abandoned the idea and was roundly applauded for doing so. While governments and countries can survive operating at a deficit, it is proving to be a potent political weapon for the opposition, the Liberal National Party, only months out from a long awaited election. Furthermore, the mining boom, which has, in reality, been the engine of Australia's economy for years, is slowly grinding to an inevitable halt. Finally, an unusually high Australian dollar has seen tax revenues forecasts reduced.
These reasons, amongst others, prompted banking firm Goldman Sachs to announce recently the possibility of an Australian recession in early 2014.  Predictably, the announcement was shouted down, by a government unfamiliar with attacks on the economy by an opposition in prolonged election mode.  However, the message was a much needed reality check and serious warning for Australia's economic future. Behind the headlines and political hot air, lies a serious message.
Thus far Australia has been able to largely ignore the economic implosion in Europe and the US. Our national debt is 11% of GDP, compared with 70% in Britain. We have avoided the mass reclamation of homes (US), the disastrous youth unemployment rates (Spain & Italy), government cutbacks (UK) and violent protests (Greece). Yet, Australia is not out of the woods. The next Australian government, whoever that may be, will eventually have to face up to the austerity question.
Whichever party triumphs in the 2013 election, they will inherit an Australian economy in desperate need of a stimulus of its own. Our ride on the non-renewable roller coaster now has an end in sight and a sharp fall is waiting unless we plan for it now.
Tags: austerity, australia, budget, economic growth, economy, Europe, GLOBALISATION, Governance, mining, Natural Resources, sustainability, unemployment, youth unemployment