Bad education – the reason why young Bulgarians are left behind on the job market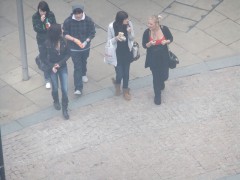 317,000 young people – or close to 25% of Bulgaria's population in the 15-29 age group – are neither in employment, nor education nor training. This puts Bulgaria at the top of the EU list in terms of the numbers of young people neither in work nor study, according to Eurofound, the European Monitoring Center on Change.
Eurofond data for the entire EU27 paints a depressing picture: 14 million young people don't work or study. The report shows that the recession has had the heaviest impact on young people, with the unemployment rate for the under thirties nearly double the overall average.
In the EU, the average number of young people not engaged in any form of employment, education or training stands at 15.4%. However, the gap between member states is huge. Bulgaria, unfortunately, comes out on top, closely followed by Italy, Spain and Ireland. At the other end of the spectrum we find the Netherlands, Luxembourg, Denmark, and Sweden, with "only" 5.5-7.8% of their youth neither working, nor studying.
Other statistics show that in the EU 22.8% of young people are unemployed, meaning that chronic lack of job opportunities is wrecking an entire generation. Some might say there's nothing wrong in taking time out and maybe figuring out what career paths to follow. But statistics show that young people who are not in employment, education or training are substantially less interested in politics and way less likely to vote than their peers who have some sort of occupation. They also have less trust in institutions and a lower rate of social participation when compared to young people who study or work.
The financial losses for European economies that have failed to bring young people onto the job market speak eloquently about the scale of the problem. In 2008, member states' inability to employ youth led to an estimated loss of 120 billion euro or 1% of GDP, while in 2011 the figures had climbed as high as 153 billion, according to Eurofound.
Naturally, the biggest loser here is once again Bulgaria. Damages from the country's failure to mobilize people under 30 amount to 2.36% of GDP or 1.25 billion euro. That is almost double the 2012 budget of Sofia, the capital city of Bulgaria, which came to 0.636 billion euro. What are the reasons for the failure to meaningfully engage young Bulgarians in education or employment?
Experts from the International Labor Organization have investigated the problem and concluded that its roots lie in schooling. Poor school education leaves young people badly prepared for real life jobs and this impacts on their motivation to develop a career. Bulgarian schools and universities come at the bottom of all world ranking lists. According to the latest PISA tests, 40 percent of 16-year old Bulgarians are practically illiterate . It's kind of ridiculous to expect these people to be involved in any form of higher education, training or solid employment. And it's equally ridiculous to expect that a country with poorly educated youth can foster employment and competitiveness.
To give a personal example, my best friend has always wanted to be a kindergarten teacher. At the age of 29, she decided to go for a Master's program in pedagogy at the second biggest university in Bulgaria. Without this degree she cannot be employed as a teacher. Both her parents are professors at the same university. And she tells me the story of how she got the highest grade in one of the most difficult exams which goes like this: before entering the room where the exam was held, another professor meets her and her examining professor. The first professor says to the second, "Oh, and you know that this lady here is the daughter of our colleague X, don't you?!" Well, my friend got a straight A before her exam was even marked. Then afterwards her professor called her in to explain that she had actually failed the exam, and point out all her mistakes. Now, she is my best friend, but as I have never been through the Bulgarian university system myself, I couldn't resist saying something like : "I really hope that you are not my kid's teacher one day, and that our surgeons, dentists and lawyers at the very least get a better quality education and fairer assessments than the ones you've had!"
Tags: Bulgaria, education, employment, jobs, labour market, mismatch labour market education, skills, youth, youth unemployment