Caring and coping: old age carers move in as families move out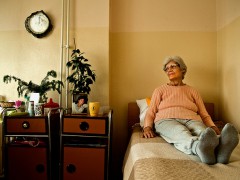 This article was written in collaboration with my fellow FutureChallenges author Anikó Mészáros who was of great help in finding the interviewees for this piece.
As mobility has increased in Europe, women from poor social backgrounds in Central Europe have hit the road to find the work in Western Europe  they can't find back home.
The 1990s saw the emergence of a new form of homecare among the relatively well-off elderly in Hungary as  ethnic Hungarian women started to come in from Transylvania, (part of neighbouring Romania), to work for limited periods taking care of old people who couldn't take care of themselves.  Such a need was created by today's atomised family model which stands in stark contrast to the traditional Hungarian family. Not so long ago, several generations used to live under the same roof, taking care of each other but this old traditional model is fast disappearing everywhere. With long working hours, frequent travel, work commitments abroad, and other ties, many people find it impossible to attend to their elderly loved ones.
When Hungary and Romania joined the EU, such informal work spread quickly, helped by a rapidly aging society and the fact that crossing the border is much easier now than it was before 2007.
Jolán is an ethnic Hungarian from Transylvania currently working in Budapest. She told me what her job involves. She works for four weeks at a time in Budapest, caring for an old person, after which she hands over to another lady and returns home to come back later for her next stint of duty. During her working time she has no free days as she lives with the person she cares for. The job is 24/7  so private life is an unaffordable luxury. In return, she earns three times as much in a month as she could back in Romania. She got this job through an informal network closely linked to the Hungarian health service. GPs and other doctors in Budapest are connected to this unofficial care system. When my one of my grandparents fell ill, and the question of getting help from a similar lady came up, I was surprised to find that this network was so effective; it was possible to have somebody staying with my grandparents within just one week.
Andrea who left Hungary for such work in Germany tells a story that has both striking differences and similarities to that told by the lady from Transylvania. She faces similar challenges as caring for an old lady leaves her little time for private life. However, the differences are also telling: her wage is only 40% higher then what she would earn in Hungary and in stark contrast to the situation in Hungary, she works legally in Germany and pays all taxes. In fact, her employment was organised by a state-run agency which puts her in a much less vulnerable position.
Leaving Hungary and Romania is a difficult choice for these women. However, you have to keep in mind that most of them are in their 40s, 50s and 60s and that finding a job in Central Europe is very difficult for anybody but particularly difficult for women in this age bracket. In Romania 66.5% of women between 55 and 64 do not participate in the labour market,  Figures from Hungary paint a similar picture with only 32.5% of the same age group having employment.
Trying to fend for themselves and their families, Transylvanian women take up jobs in Hungary, while Hungarian women move on to Germany. They live far away from their own families and do the hard work today's middle and upper class families are increasingly incapable of doing themselves. Westward migration allows Eastern European women to have a dignified life, something their country of origin is not yet able to provide them with.
Tags: Central and Eastern Europe, Economic migration, elderly people, European Union, Germany, Hungary, middle class, romania, social inequality, Transylvania, unemployment, urban poverty, women