Changing patterns: Woman's work in Pakistan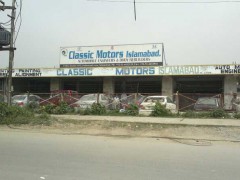 I believe that cultural patterns of 'woman's work' are changing and that this change is having a marked effect on the economy itself. While researching this,  I talked to two women from different economic, social, cultural and educational backgrounds about such changes in behavior and how they interrelate to changes in the economy and beyond.
In my opinion, one of the main reasons for such changing patterns is the emergence of role models like Bilquis Edhi (one of the most active philanthropists), Sultana Siddiqui (the president of Hum TV and the first woman to start her own TV channel), or Sharmeen Obaid Chinoy (lauded by the press and the government as Pakistan's first female Oscar winner). Such shining role models have influenced lives of countless working women, and have greatly contributed to changing the general nature of woman's work.
Those  fields that used to be considered as unsuitable for women, by women themselves and their families, have now become the most desirable ones. A teacher or doctor was the best job women could aspire to previously. But now, following the pioneering footsteps of these role models, the horizons of work have opened up for women from every social, economic or cultural situation.
The two women I interviewed come from different backgrounds:
Farkhanda, from Classic Motors:
Farkhanda looks after the accounts at Classic Motors* and liaises with insurance companies and embassies on behalf of the company. She is the only woman among all the male workers at the garage – an unusual situation for a woman worker in Pakistan.
When I thought about interviewing Farkhanda, I thought that as she is an educated woman, she must be inspired by the strength shown by the great women of Pakistan or the strong women in her own life. But she told me that "there is no such inspiration in my life; however, I do think of carving out ways to reach success in my field". This makes me think that the general pattern of our society is changing and enabling young women like Farkhanda to prove themselves on the employment market. Her choice of career in an 'odd' setup is the choice she made of  'carving out her way to success.' In my eyes, she is also a very determined young woman, one who also can have a decisive impact on other young women. 

Shomaila Sadaf is a qualified media expert as well as an academic. She is also a producer, winner of UN (ILO) award for her documentary on Child Labour. She won first prize in the Short Commercial Advertisement competition at GIKI university in 2012 and second prize in 2013. And she won the Song Video Competition held at FAST university in 2012. She draws her inspiration from strands in the culture around her and transforms them in her own life. She told me:
"When it comes to growing professionally and intellectually, I cannot limit inspiration to one single idea. The thought that a sound and strong woman can be as productive as a man and as responsible – a word not just limited to men – has been my own improvement venture. In my dictionary, future security is not defined as a woman married to a financially settled man. Knowing my own capabilities has always been my concern and these were a few of the things that have always helped me plan my life – that turns out to be productive.
"Qualifying myself to a level where I am not questioned for my knowledge, and making the very best of every single opportunity for learning has been my objective. Be they small or big, I have always worked to achieve the milestones that build my personality. I have two major careers and am simultaneously a producer and an educationist. Having my own production company enables me to channel my passion into my profession. I have learnt to grow and grow again by aligning my personal needs for growth and my professional needs for improvement."
These young women are becoming independent women in their own right and are broadening their 'horizons' of work by using their finance to experiment with different ideas in their own field of expertise, coming forward as 'women of substance.' This is a healthy development in our society and I strongly believe that our society should actively embrace and nurture it. Because such determined efforts at the individual and personal level will have a huge culminative economic effect for our country as well.
* Classic Motors is a garage. It is among one of the most prominent companies (private) for repair in Islamabad/Rawalpindi. Owing to the quality of work, most of the Insurance companies and Embassies send their vehicles here for repair. However, the setup of the Classic Motors is not so posh as it is a workshop.