Defaming Religion: The New Tool to Silence Opposition in Egypt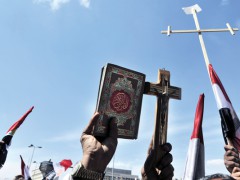 It's been well over three months since Muslim Brotherhood Freedom and Justice Party ex-leader Mohammed Morsi was sworn in as Egypt's first democratically elected, post-revolutionary, non-military president and yet it all feels too familiar. Far from feeling that things have changed since the mass protests of  January 25th,2011 and the following days, the atmosphere now prevalent in Egypt is one of gloom as people see themselves heading for the worst.
And at the heart of the current Egyptian dilemma is the issue of Freedom of Expression. Not even half a year has passed and already various people are being arrested and prosecuted for allegedly "Defaming Religion".
It may have started with the anti-Islam film fiasco but after the arrest of Christian blogger Albert Saber , things have really been snowballing.
The latest crackdown on "alleged" offenders of religion saw the apprehension of a female student and her boyfriend after her mother reported her as an atheist. In fact, the girl had earlier reported her mother for trying to poison her but it was the girl herself who ended up behind bars for allegations of insulting Islam.
And to add insult to injury, two ten-year old children were imprisoned for the same charge about a week ago; some news outlets said they were taken in for spitting on the Quran, others went as far as to say they urinated on it. After pressure from the media, the boys were released.
It was also media pressure that led to the prosecution of an Islamic preacher who goes by the name of Abu-Islam for burning the Bible after public outrage that "Defaming Religion" was being used to persecute Christians.
What's notable about all these accusations is the lack of any proper investigation before the start of the trials. Most of the accused were rounded up from their homes on the strength of mere "allegations" that have yet to be proven.
The clampdown has sparked a backlash from Egyptian atheists who have spoken out loudly – through FB pages and Twitter hashtags – against both Islam and Christianity. The most recent of these was an Arabic Twitter hashtag called "A million Arab Atheists on Twitter" through which non-religious citizens of the Arab world complained of what they called "neo-religious fascism".
Still, Albert Saber remains in jail despite all the activist and media pressure to release him and as the panel that drafts the Constitution entrenches more religious conservatism into what is supposed to be a social contract between the state and all citizens, the charge of "Defaming Islam" may be the most powerful tool in the Morsi' security apparatus for clamping down on "unwanted" opposition.
Tags: atheist, christians, egypt, religions, rights, tolerance