Democracy and Climate Change in the Philippines: The Role of Local Officials in Disaster Risk Reduction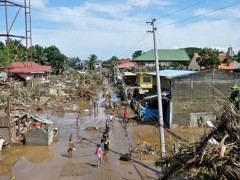 Bombs, blood, broken lives – for decades such have been the headlines from  Mindanao, the southern region of the Philippines. This resource-rich area – now improverished by armed conflict, terrorism and corruption – has been presented in the media as a region in crisis.
In December 2011 Mindanao hit the headlines again, but not because of sectarian violence. Shortly before the New Year the region saw some of its areas hit by Washi(Sendong), a powerful tropical storm. This was unexpected as Mindanao has usually been spared typhoons. Yet the provinces of Cagayan de Oro and Iligan suffered severe flash flooding and over one thousand people perished.
In February 2012, two months after the tragedy, a Mindanao Summit on Disaster Risk Reduction was held. The aim was to identify priority programs for a climate change action plan that would work for Mindanao. Scientists, academic experts, civil society organizations, lawmakers and environmental officials attended it.
Amina Rasul, director of the Philippine Council on Islam and Democracy,  pointed out that  no local officials from the Autonomous Region of Muslim Mindanao (ARMM) were present at the summit. The ARMM governor, Mujiv Hataman, instead assigned an environmental official from the area to attend. As ARMM  is the area in Mindanao which has long grappled with problems of poverty, it was vital that its local officials participated in discussions like this . Remember that poor places are considered the most vulnerable to the onslaught of climate change.  And even as the national government develops a framework for disaster risk reduction, no such framework can be effective if this is not reflected in the programs of local executives.
This all forms part of the unique dynamics of Philippine democracy – local officials enjoy control over their plans, people and policies independent of control by the national Government. Hence, they can form their own programs and pursue the action necessary to benefit their own constituencies, which include improving disaster preparedness in the places they govern – provided, however, that they have the will to do so.
Local officials – who exercise authority over cities, towns and provinces – can identify their own priority projects with minimal to no intervention from national Government. This level of autonomy grants them the power and  responsibility to utilize their resources for those programs they deem  important.
This is a key feature in a democratic state that should be highlighted. Often enough, when disasters strike, the president or head of state comes in for criticism. This is understandable, as the president should take the lead in making sure that key policies, systems and funds are  in place when natural disasters occur. But reserving the goals of disaster risk reduction and climate change preparedness only for the office of president is short-sighted and self-defeating – it trivializes the capacity and responsibility of local officials to develop their own strategies in handling climate change.
With democracy, decentralization is expected.  Hence, local officials should have immediate access to what they need in times of disaster. They do not need the approval of the president to use equipment, logistics and money, be it for emergency rescues or long-term adaptation projects. In short, local officials have the power to ensure that the people who voted for them are given all the assistance they need in cases like typhoon Washi (Sendong).
The role of local officials in climate change adaptation was further highlighted in the 2010 Disaster Risk Reduction and Management Act (DRRM). This  Act specifies how  preparing for the possible effects of climate change should be primarily a local-level effort.
This makes sense as local officials are supposed to be the ones most highly aware of the vulnerabilities of their respective areas – what are the most disaster-prone places, how many families would be affected, what are the economic, health and security risks that could emerge in the eventuality of intense weather disturbances, drought and other effects of climate change?
Prior to the passage of the DRRM Act in 2010,  local officials in Albay (another province in the Philippines) and especially the governor, had already  made climate change adaptation and disaster risk reduction  the centerpiece of  their strategy for governance. Joey Salceda, the governor of Albay integrated climate change adaptation in the curriculum of the students in his province and also set up a climate change academy for local officials like himself.
Tellingly, Albay, like ARMM, is also a poor province. Salceda however, allotted most of its budget to disaster risk reduction, believing that this investment would actually  help them sustain their sources of livelihood such as agriculture.
If other local officials would follow suit. It's about time that they did!
Tags: climate change adaptation, democracy, disasters, local officials, typhoon