Designing our very own American Dream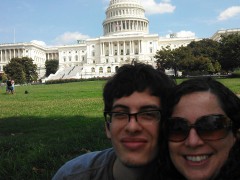 Growing up in Central and South America, we were raised on tales of  the "American Dream": how an immigrant could go to the USA and before long have a house, a car, a family and enough money to send back to his extended family in the home country. Things have now changed with the economic downturn, and not even US citizens are able to grasp the American dream with many of them now facing foreclosures, unemployment and bankruptcy. It may not be the land of opportunity that our parent's generation spoke about: but for my sister, my husband and myself  – all recent immigrants from Costa Rica and Colombia into the United States – it really is the new home where we will make our dreams come true.
We had the odds stacked in our favor: my sister and I are college educated, have varied work experience, are computer savvy and most important for immigrating to the USA, we read, write and speak English like native speakers.  My husband is a more recent college graduate, but has a few years of experience under his belt specific to his field and is also bilingual, although he is more comfortable understanding written English than having conversations.
Six months after arriving with our whole lives in suitcases, some of us have settled into the job market better than others. I turned the part time consulting work I did remotely from Latin America  into a full time paid job with the same non-profit organization, while continuing to telecommute. I make a competitive salary and feel satisfied with my career path. My sister came with a job already lined up as a bilingual teacher in a  Montessori School, but when that fell through she had to scramble and at the last minute was able to get a position as a classroom assistant at a different Montessori School for a fraction of the pay.  My husband is still working part time in the kind of freelance jobs he had before our move, but has been unable to find full time employment since it seems that most companies are looking for people with a lot more experience, and frankly, his English skills are challenged when Skype or phone interviews are part of the hiring process. But despite the hurdles, all three of us believe the end sum is positive, since we are sure we'll eventually find better work opportunities than we had back home.
For my sister the path looked easy, and since she had a job lined up before leaving Costa Rica, she didn't worry too much. But when that fell through, she discovered that in many cases to teach in the USA she will need to get certified and have her studies validated: a complex and time-consuming process. It looks like she won't be teaching kids any time in the immediate future. When I asked her if she ever thought she would've been better off staying in Costa Rica, her answer got me thinking about how working towards a goal may be as fulfilling as reaching it:
A year ago I wanted to go back to teaching. I wanted to change my career, what I had been working on, to go back into teaching. This year, as a classroom assistant it has been invaluable for me to be once again in the school system, becoming familiar with how things work and slowly finding my bearings and making sure that I'm standing on solid ground. I wanted to be a teacher… I am not a teacher now, as far as my job description goes, but I also have opportunities for creating and performing in the classroom that are also very fulfilling and allow me to learn, so I am closer to my dream. I have encouragement from peers and validation that I'm on the right track.

Next year I see myself on my way to getting certification, or already certified and working in the public sector.
In Central and South America, like the rest of the world, having a college degree or higher studies did not translate into better job opportunities for us.  I'm a drama major, and as soon as I graduated I realized that working in the theater would not be feasible: I went on to find employment in other areas that could give me health insurance, a stable income and job security. I eventually cultivated my hobbies and interests into a career I enjoy, and while it has nothing to do with my degree, it gives me stability.  My sister studied teaching, specifically elementary school and Montessori pre-school. She worked for some time as a teacher back in Costa Rica, but the low wages paid for teachers there had her working two jobs at once to pay the bills and eventually she moved to full time work in the corporate world. Throughout that time, although she was not completely unhappy, she regretted not being able to work with children in a school setting.  My husband studied software engineering. So he's a programmer and ever since graduating from college, he's worked only in his chosen field. However, since he wasn't able to find work in his country, he had to turn to freelance work done remotely for clients outside Central and South America, since there were no full time jobs for him in Colombia.
One of the lessons we've learned seems to be that when trying to make it in the USA  job market as an immigrant, flexibility is key.  The ability to mold oneself to available employment options and not be limited by a specific degree increases your chances of finding a job, any job. I had a general direction and was flexible in what I hoped to be doing, and succeeded in finding something that ticked the boxes on my employment wish list: non profit sector, working remotely and with a decent salary and benefits. My sister became a bit flexible, and decided to take the lower paid job in her desired field as a way in which to get known and learn about the educational system in the USA… her payment isn't necessarily in cash, but in experience. My husband, although he is in a very sought-after field,  has had a much harder time matching available job offers in his programming language with his experience level. There is not much flexibility in his specialized field of study, so he continues searching for a good match.  And thus we've learned that being a degree holding educated immigrant does not necessarily make the job search any easier. Luckily, they both have family support which has translated into financial security so that they can mold their reality into their dream.
That brings me to the second key of making it as an immigrant: a safety net. In my sister's words:
Any person who decides to move needs to have a safety net of some kind: family or savings. In my case it was family…

… The reason I work as a teacher now and can be fulfilled in it is because I have family support, which means they are able to support me financially as well as with food and board.
In my husband's case, my work has been enough to sustain us both, and as we've been living within our means, this has meant that he's able to keep on job hunting for something in his chosen field instead of finding some other work just to pay bills. We also had support through the family network as we were able to find a rental property in our chosen city thanks to one of my brothers. My sister has been living with another brother and his family, bartering her time and help  around the house for room and board. To make extra pocket money she does odd jobs in the neighborhood such as sewing, mending, house sitting or babysitting.  And she's discovered that being this kind of Jill of All Trades is helping her reach her own dream:
I still believe the opportunities I have for finding work or being employed in general in the United States are better than the ones I had in Costa Rica. Labor is paid well here… People here pay for time.

Sewing for me has become a way to make extra income so that the money I am not earning because I am still only a classroom assistant is not a driver pushing me into finding a different full time job just to make ends meet. I have invested very little time in promoting my sewing skills but by word of mouth it has gone out. If I wanted to focus on sewing, I could make it work.

Someone who has drive and is passionate about what they want to do can achieve it here. The logistics of making it happen are easier and are more readily available than in Latin America. Whether it is freelancing, creating art, creating something or offering a service, there are more opportunities to offer them here and to have clients and grow a business.
If you are flexible and have a safety net, the third key is to continue dreaming because despite the hardships and curve-balls life may throw, there is always a way to get ahead. So perhaps instead of having the American Dream be a journey with a set destination, we'll make it a pilgrimage where every step is the goal.
Tags: education, migration, remittances, unemployment, youth unemployment