Different but not without dignity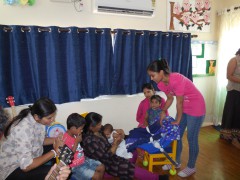 Literary skills and social interaction can be daunting for Blind and Visually Impaired(BVI) children as well as children with multiple disabilities. It is imperative that their learning starts at a very early age. When all of them cannot be integrated into mainstream schools, access to support services such as accessible reading materials, regular counseling and guidance for both parents and teachers and special teaching methodologies become necessary for the child's growth. These services enable social interactions and other necessary skills in the best way possible so as to prepare the children to become self–reliant and confident.
Schools like Saksham have helped facilitate this, since it was set up in Noida, adjacent to New Delhi, in 2006, with five children, as a school to provide support services for children with blindness and multiple disabilities. No such schools that worked for children with sensory impairment existed in the area at that time. Some children from the school are already a part of the integration process as they are attending mainstream schools. The School is a part of Saksham Trust, established in 2003 by Dipendra Manocha and Mrs. Rummi Seth to work for the education, rehabilitation and welfare of persons with visual impairment and blindness. Presently there are 80 children in the school with 20-30 going to regular schools. It is a day school and has infants as as young as one month, toddlers and children up to 18 years.
Supriya Das the Programme Officer and Special Educationist's passion for teaching special needs children at the  Infant to Toddler Unit  at Saksham was well resonated in the way she filled me in on how  the Team members(special educators, speech therapists, occupational therapists) worked with the chidlren. This programme unit was started in August 2015.
Since children learn more quickly through social interactions and the environment they are in, the involvement and contribution of parents at home and in the Unit is encouraged by the Team. Parents of BVI children or those with multiple disabilities are prepared very early on- even as early as one month.
The family's role is very important in the child's progress. The special educators meet the parents and spend days assessing the home environment of the children. Normal siblings of these children are also invited because they tend to treat a child with disability just as any other child and allow them to be themselves. Teachers try and avoid taking notes in front of family so that they do not feel that they are under scrutiny which can make them uncomfortable and less participatory. The parents are made to meet with other parents of similar children so that communication and comfort is established. The father of the child is invited at least once a month as the mother is usually the involved and active parent. They pair up the fathers with other fathers of such children so that they are more at ease. They also get another person who is blind, has undergone a similar training as a child and is now a grown-up. Families which have gone through the process are also called to encourage and empower other families. Families  are made to interact, exchange phone numbers and provide a lot of information. Parents are encouraged to talk freely with other parents during the first few visits. The school also provides functional assessment, sensory stimulation as well as pick and drop facilities for the children.
The teachers identify the child's gross motor, fine motor, oral and communication skills. Special trainings like orientation and mobility to perform tasks of daily living are taught. Fine motor skills are usually assessed by senior education specialists. Children are made to participate in activities like games, making sounds, clapping and tapping hands, stomping the feet, playing with food items and  vegetables (both cooked and raw), etc. This is done with a view to create body awareness in the child and of others around them, familiarity with each other and absorbing all that is happening . This helps them to imitate or perform these activities later even when they are at home. To help in concept development like big, little, in and out, children are made to feel, touch and use different types of toys and real objects.
For developing sensory awareness children are engaged in creative multi-sensory activities like music therapy, dance, themes like rain, water, mud and sand, which helps them absorb the environment around them and know the difference. Music is created with the children by singing with them as it motivates and brings positive feelings. Similarly teachers encourage children with positive words like what she/he should be doing and never mention what she/he has not done.
But all this is not without challenges. For English speaking families teaching jingles do work but creating jingles in Hindi can be a challenge. Although Saksham gives free education and training to the underprivileged children, sometimes the parents are not very keen to involve their children due to certain myths and cultural practices. They hold back from participating. Parents are made to pay a small amount even if it is equivalent to US$ 1 to 1.50 to give them ownership.
For older children, Saksham houses an integrated education unit as well as a computer training unit. Children learn through skill reading softwares, Braille as well as arts and crafts. A child as young as 5 -6 years can use a laptop. There are not only visually impaired (VI) or blind students but also deaf blind and blind with multiple disabilities in the Multiple Disabilities Unit.
Usually a child is four years old when he/she goes to Nursery, 5-6 years during Kindergarten and 7 years in Class I when being admitted into the mainstream schools. Getting little older children admitted to the private mainstream schools is challenging for the Saksham team as the teachers in these schools are reluctant to take them inititally. It takes a lot to convince them. Saksham teachers use advocacy and communications for this. They show videos and photos of progress of the child, sometimes making the school authorities meet a boss or other children who are BVI so that they can  see their capabilities  and also showcase case studies. Presently there are five very prestigious schools where special needs children from Saksham are being admitted.  The school pays for the tuition and extra tuition fees, books, transportation and uniforms by approaching  many small donors and corporates for support. The cost for one child is approx US$ 2288 annually. Saksham also holds workshops for teachers from those schools on how to manage visually impaired students.
The school trains the children so that they can compete in regular schools. They are also taught to become productive, keeping in mind the children's background and community. The children who are not interested in education get skill training according to their needs so that they can go and find work eventually.
Saksham uses innovative methods like research and surveys to find the number of families and BVI children and those with multiple disabilities in different areas. The team has good networking with doctors and work in collaboration with them. Doctors are often able to convince parents of these children. They are trying to survey eye hospitals, doctors including pediatricians and gynecologists to come in contact with more children with disabilities. They plan to conduct a special programme/workshop sometime in July this year where information will be shared with professionals from Hospitals and other organizations. They use posters and banners, consisting of pointers on how Saksham works, the services they provide and   their contacts. Other organizations that work with special children are contacted as well at the doctors' clinics, hospitals, and dispensaries for raising awareness on children with BVI children and those with multiple disabilities.
When provided with the right support, children with special needs especially BVI and those with multiple disabilities can really outshine. If given a chance to play and learn, along with their sighted peers, they can grow immensely since BVI children can make extensive use of their tactile, olfactory and hearing senses. Likewise, deaf-blind children can use their tactile and olfactory senses. Gungun, the two and a half year old child at the Infant and Toddlers Unit, whom I met is an exemplary success story. She was born premature with total vision impairment caused by retinal detachment of the eyes and suffered developmental delays when she first came to Saksham. However now she is able to speak, sit up, walk, touch, explore her environment and socialize with others. She has  been admitted to a  regular play school.
Tags: Blind, BVI, children with disabilities, children's rights, gross motor skills, integrated education, music therapy, Saksham, visually impaired