Educating its way to growth: Fiji invests in sustainability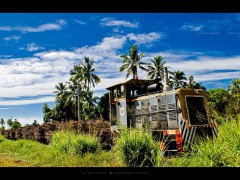 Once a prosperous industry, drawing many to Fiji's shores and an erstwhile key contributor to Fiji's economic success, the agricultural industry is now in threat of collapse. Agriculture alone accounts for nearly 20% of Fiji's gross domestic product and sugar exports were equal to 187 million Fiji dollars in 2009. Since that time, however, the industry has been in dramatic decline.
Failure to take action to address the dire state of the sugar industry in Fiji has left it in a perilous position and is forcing the government to find solutions before the damage to the industry becomes irreparable. The outstanding debts owed by the Fiji sugar cooperation FSC compounded by evidence of the serious malfunctioning of equipment at sugar mills have turned many farmers away from sugar. While some farmers have switched crops, many others have simply given up altogether and migrated, adding to the rural-to-urban drift. And now that many farmers have left the sugar industry, landowners are proving shockingly ill-equipped, untrained and uneducated on how to make use of the now idle land.
Idle land has been a major concern for stakeholders in Fiji. As their leases expired, landowners demanded such huge sums of money for new ones that farmers simply could not pay. This is yet another reason that has forced farmers out of the industry. Landowners then simply let the land go to waste, loathe to plant crops on it themselves. The Fiji Sugar Corporation recently paid more than $270 000 Fijian dollars for 1700 acres of idle land to be turned into farm land. The prominent Northern Chief TUI Macuata Ratu Wiliame Katonivere has also called for idle land in Seaqaqa, outside of the town of Labasa, to be handed to over to cane farmers and turned into farm land.
Seaqaqa was once a hub of pulsating activity but with the expiry of land leases and political instability in the past, people have decided to move to other places. Most of the land is idle in this district and it's only wise that landowners give it to cane farmers for cultivation.
Previous governments have made the critical mistake of focusing on ways to compensate landowners rather than educating them to make the best use of their land. However, there is another way, one that invests in rebuilding a dwindling industry and at the same time, ensures the sustainable use of land.
Educating people to make the best use of their land is the key to ensuring long term productivity and stability. Sadly though, at the present juncture most landowners in Fiji are simply waiting for the government to give them money and solve the land situation for them instead of planting crops and making use of their own land.
While it seems as though Fiji has some pretty grim days ahead, there's a glimmer of hope abroad in the shape of the most recent government initiative. What this initiative does is look at ways to achieve growth that is real and sustainable. By investing in educational scholarships with Fiji National University, the government of Fiji have created a system whereby courses on how to farm land will be taught as part of the university curriculum.
Fiji National University has launched a new program to teach the skills needed on how to farm and put land to better use. This program is designed to raise awareness and change the mindset of Fijians, encouraging them to stay put in rural areas and use their land to earn an income and drive the economy. Plans are also underway to ensure that any Fijian who is eligible can apply for a scholarship at a tertiary education level. This includes farmers and landowners.
I ask you all to imagine the difference this initiative can make in a few year's time – a new breed of farmers all formally trained and equipped with the tools to do their jobs. This initiative, we believe, will change the way Fijians view farming and farmers.
No Fijian student who has passed university entrance is prevented from taking up tertiary study because they cannot afford it. Yes, it's an ambitious objective in a developing country with scarce resources. But we believe in the vision of a clever country as the only way to improve living standards for everyone. And we want to give smart, young Fijians the best possible opportunity to take the nation forward with them.
Fiji does not have a gigantic pool of resources at its disposal but if these plans are come to fruition, at least our resources will be useful for future generations and for the growth of the nation. Education in general is the most effective way for economic growth. It is also important to change the mindset of people who leave rural areas in search of the big office jobs instilling in them that these type of jobs that they see in movies and television adverts once again can only be gained through education.
Educating people on how to make proper use of their valuable land assets is key to ensuring growth and sustainability in the long run.
Tags: economics, economy, Fiji, FSC, GLOBALISATION, growth, industry, Pacific, sugar, sustainability