Egypt's Patriotic Women: The Example of Shahenda Maklad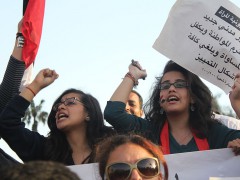 Throughout its long history, Egypt has produced many patriotic female figures whose names are engraved in the memories of Egyptians. One such remarkable figure is Shahenda Maklad, a feminist, labor activist and the head of the Egyptian Farmers' Union.
Born in 1938 to a nationalist father, Shahenda had struggle in her genes, and has spent more than 50 years of her life fighting for the rights of the poor and the marginalized. She was detained several times, and many hands have attempted to stop her mouth from speaking the truth, but they all have failed.
One of those attempts occurred while Shahenda attended a protest against the Muslim Brotherhood-affiliated president Mohamed Morsi. Shahenda was chanting slogans of freedom and social justice when a member of the brotherhood literally shut her mouth to prevent her from chanting.
I interviewed her for Future Challenges and we discussed the Egyptian economy and the current status of Egyptian women under the leadership of Morsi.
FC: What role do Egyptian women living in rural areas play in developing the Egyptian economy?
Shahenda Maklad: Rural Egyptian women are workers and producers. In addition to their family duties, they also work in agriculture and bake bread. They feed their families and sell the rest of their crops and bread to people living in urban areas. What's more, some women also take full responsibility for their families if they are divorced or widowed. Some also shoulder this responsibility when their husbands leave to work in Cairo or the Gulf states.
FC: Some scholars claim that for the economy to flourish, women should focus on their home duties and leave the rest to men. What would you say about that?
Shahenda Maklad: This is nonsense because women need to get in touch with the society surrounding them if they are to raise their children properly. Women's awareness will eventually increase with their participation in different activities and this will definitely reflect on the children and so empower the upcoming generation to drive Egypt forward on the road to more development. What would a 'housewife' teach her children? And how can children benefit their society if they aren't properly raised and educated?
FC: In which sectors do you believe women should be engaged?
Shahenda Maklad: Not a single sector can dispense with women. Women are truly half the society and I am against any racist division that perceives women as creatures apart. Engaging women in all sectors is the basic starting point for economic development and social stability.
FC: How would you rate women's education in Egypt?
Shahenda Maklad: Education is a total disaster in Egypt for both men and women. Some university graduates can barely read and write, while many rural children quit education early to support their families by working on the land. Most poor rural families force their daughters to quit school at primary level for the selfsame reason.
FC: What role does the Egypt Farmers' Union play in alleviating the suffering of poor farmers?
Shahenda Maklad: Farmers are naturally divided over their farms. What the Egypt Farmers' Union does is organizing these farmers in a well-structured institution that enables them to demand their rights and have a say in their society.
FC: How do farmers contribute to developing the economic status of Egypt?
Shahenda Maklad: Farmers are the only sector in Egypt that has kept on working and producing goods throughout the past two years. They did not strike or suspend their work because they are working on their own land.
FC: Compare the current status of Egyptian women to their counterparts in the past.
Shahenda Maklad: It is shameful enough to say that Egyptian women are now calling for what their counterparts had 80 years ago. Back then, women were respected and they participated in promoting Egypt. Today, women are perceived as lower citizens, and face harassment, negligence, and oppression. The image of the bearded man shutting my face is just one small but telling example of the current status of women in Egypt.
FC: What's the main difference between the status of women in Egypt and in western countries?
Shahenda Maklad: It's the difference between modernity and backwardness. It is the difference between a developed society where all citizens share equal rights and obligations, and a struggling society that is half paralyzed due to its misperceptions  and misconceptions of women.
FC: Could you send a message to Egyptian women through Future Challenges?
Shahenda Maklad: I want to tell my fellow Egyptian women that no free state will come about without free women. No economic development will be possible without the engagement of women in all sectors. Fight for your rights and never give up against those who are trying to take you back to the Middle Ages.
Watch a video of the attack on Shahenda Maklad: (starts at 1:15)
[jwplayer mediaid="31433″]
Tags: economy, egypt, equality, human rights, Interview, Oppresion, Shahenda Maklad, social inclusion, women