Electricity Outages Causing Ripple Effects in Ghana's Economy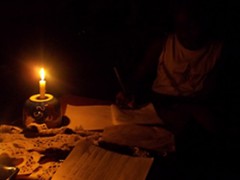 Ghana is currently facing its longest power crisis ever. Despite Ghana Government's promise to fix this problem by offering alternative sources of power, the country is still experiencing frequent power outages.
With a huge public administration wage bill, a consistently depreciating cedi (Ghana's currency), and other macroeconomic instability indicators, the country is being plunged in a downward spiral economic recession. Industries are on the brink of collapse and labour is also on the verge of redundancy.
In his state of the nation's address, the President of Ghana, John Dramani Mahama, promised Ghanaians power outages, popularly called "dumsor", would be a thing of the past.  Since that speech the power crisis has rather worsened.
Ghana has been tipped to be one of the sub-Saharan countries that are likely to emerge as the biggest economic powerhouse of the 21st century. However, with the current energy crisis Ghana may take longer to earn this economic status.  History shows that, no nation has ever industrialised and had an economic boom without an affordable, reliable and stabilized energy supply.
The recent power outages reveal that, until Ghana builds partnership for energy development and high investment in that sector, the problem will be more severe and that will affect virtually all other facets of the economy.
Various pressure and anti-corruption groups, think tanks and citizens of Ghana have expressed their desire to have the energy crisis solved. Last month, after several press releases, radio, newspaper and television commentary, some of the groups resorted to demonstrations which will send a quick message to the government that the power outages are becoming unbearable.
Occupy Ghana, one of such groups, which is are made up of mostly the middle class has been very active in criticizing government's policies, and its corrupt practices protested and held series of public lectures on the bad governance of the president and his ministers. The demonstration dubbed, Occupy Flagstaff House was fueled by corruption, falling cedi, and power outages.
The current power crisis, which seem to be troubling other sectors of the economy has been the main subject of the demonstrations and public outcry on the government's policies and efforts in trying to solve the problem. The most significant indicator of business confidence of employers was the energy situation.
There are several reports and opinions by energy experts and policy analysts which predicts the repercussions of the power problems on the overall economic growth and development. The government has the responsibility of strategizing and putting up stringent measures to provide a long lasting solution to the power problem lest it sinks down in economic gloom.
It is, however, important to note that the electricity crisis is not only being experienced in Ghana but also in South Africa, Nigeria, and Uganda among other countries on the continent. In Uganda, people have seemingly become accustomed to electricity outages. On a daily basis, Uganda's power distributor, Umeme Ltd, issues a timetable of places that will  suffer outages and nobody goes to the streets to protest against this torturous rationing of electricity any more. Initially, a few Ugandans would be enraged and some ended up holding demonstrations but that, too, has died out.
By holding huge demonstrations over power blackouts, the people of Ghana have again shown that citizens have a duty to demand regular electricity supply as a right.
(Additional reporting by Mubatsi Asinja Habati)
Tags: Africa, Demonstrations, economy, Electricity, Energy, ghana, Nigeria, South Africa, Uganda