Empowerment and Endangerment of Female Labourers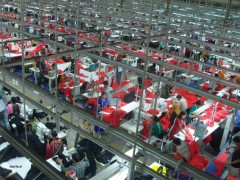 Global scrutiny of the substandard working conditions of textile workers in Bangladesh's garment factories intensified significantly following the collapse of the Rana Plaza textile factory, which is now considered to be one of the world's worst industrial accidents. Much discussion has centred upon the industry's exploitative practices that particularly impact women, who constitute 80% of all garment factory labourers.
However, a more constructive dialogue on this issue must also consider the potential of this industry to provide women with greater social mobility and economic independence. The garment industry is able to absorb significant numbers of relatively unskilled and uneducated female workers from predominantly rural areas. These women are often unable to find employment in the Bangladeshi agricultural sector, which traditionally employs a lower proportion of female workers than other developing countries. The textile industry has thereby assumed a significant role in creating employment opportunities for women, with labour force participation rates among 20 to 24 year old females more than doubling over the past decade, a time that coincides with the expansion of the ready-made garment industry.
Studies have concluded that in developing countries, a regular income derived from employment within the secondary sector, which includes the industrial and manufacturing industries, provides greater benefits than working in small-scale farming or rural microenterprises, which constitute less reliable sources of earnings. In fact, research by Yale University indicates that women employed in the Bangladeshi apparel industry earn 13.65% more per year than women with equal education and experience working in other sectors. As Raymond Offenheiser, president of Oxfam America notes, the more stable income derived from garment work "has benefitted women in a powerful way" by providing an opportunity for women, particularly those that are single or the sole breadwinner, to attain greater self-reliance and economic independence.
Additionally, the correlation between income and educational attainment within the industry, with a 3.67% increase in wages for each additional year of education, may also positively affect the educational levels of female employees. Higher-paying positions generally demand further education, with supervisory and managerial roles often requiring a higher degree of literacy and numeracy or the ability to understand English. This may incentivise parents of pre-working age daughters to make more investment in their education and maintain their school enrolment in order to attain such skills. As a corollary of obtaining a higher level of education, young women are also less likely to get married and have children at an early age. In a country with a median age at marriage of 15.4 years, this trend may aid in redressing significant welfare implications such as unemployment and poverty, which often arise as a consequence of early marriage and childbirth.
However, despite the garment industry's creation of employment opportunities for approximately 2.8 million Bangladeshi women, under its current structure it also seriously compromises the welfare of these textile workers.
Due to the labour-intensive nature of garment production, the competitiveness of manufacturing enterprises depends largely on their ability to suppress labour costs, which comprise a significant part of total production expenditure. Within this environment, manufacturers view workers as a liability to contain, rather than an asset to develop. Wages are based on meeting production targets, and excessive working schedules exceeding 15 hours per day are not uncommon. In a survey carried out by the British nonprofit organisation, War on Want, three quarters of women interviewed had recently carried out night shifts to meet daily quotas, often being given little prior notice to organise childcare and other familial commitments. These late shifts are frequently preceded by an already lengthy working day, and as such, occupational accidents caused by fatigue are a frequent occurrence. Many women feel compelled to comply with requests to work these long hours out of real fear of losing their jobs. And mistreatment in the workplace is not uncommon, with half of female workers reported to have been subjected to beatings and humiliating punishment.
These poor working conditions are partly attributable to the country's industrial relations system, which has traditionally suppressed any union activities. Many women are not aware of their labour rights and are therefore unable to affect improvements to their conditions. In War on Want's recent survey, more than half the women interviewed were prohibited from taking their legally guaranteed maternity leave of 100 days or were dismissed from employment after childbirth. Until May 2013, workers were prohibited from forming trade unions without permission from factory owners, which meant that employees effectively had no means of engaging in collective bargaining to improve wages and conditions. Although the government has recently removed this ban on union activity, unions remain heavily male-dominated and it may be unlikely that the particular needs of women, such as in-factory childcare facilities or more flexible hours, will be addressed through future industrial action.
If the garment industry is to provide an effective opportunity for women to achieve greater social mobility and economic independence, significant improvements to their working conditions need to be achieved. It remains to be seen whether the recent changes to union representation constitute an effective first step towards the practical implementation of female workers' rights or whether these will ultimately remain illusory.
Stephanie Constand is the Online Director of The Sydney Globalist (a magazine in the Global21 Network) and is currently a PhD candidate at The University of Sydney, after having completed a Bachelor of Arts and Bachelor of Laws (Hons I).
Tags: educational incentives, female employment in Bangladesh, female textile workers, female workers' rights, garment industry, garment workers union, Rana Plaza collapse, working conditions in the textile industry