Entrepreneurship is the future of youth unemployment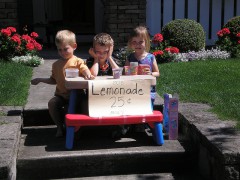 Can anything shake Europe's vacation-emptied, heat-stupefied capital on a hot July day? Perhaps a sandwich protest can! Unpaid and low-paid interns and trainees working in Brussels this year decided to stage an unusual protest against unfair internship conditions, long hours and no pay, and the questionable educational value of their assignments. During the lunch break, they gathered on the Place Lux, that notorious hot spot where Eurocrats peddle their trade, which happens to lie right in front of the European Parliament. They carried banners and sandwiches as a symbol of the shoestring budget they have to rely on as interns.
While it's obviously morally arguable whether employers, some of them extremely profitable companies, should be allowed to avoid hiring full-time and exploit instead endless series of highly qualified interns, the oversupply of unemployed young graduates in Europe is an issue that should not be overlooked either. According to the latest statistics, youth unemployment in the EU27 has reached over 23%, with countries such as Spain and Greece reaching astonishing levels of over 60%. Under such circumstances, it's little wonder educated youth take up so-called internships for which the pay, if they're lucky, barely reaches half the local minimum wage.
Since the new EU budget (2014 – 2020) will most likely dedicate EUR 6 bn for fighting youth unemployment, it's worth starting a deeper conversation on what type of programmes we should finance to shape the future of the labour market in Europe.
The online community in Romania was recently up in arms against a cynical op-ed, entitled "Employers cannot be fooled", authored by a Romanian head-hunter, also renowned as an online media pundit. George Butunoiu's piece was actually a reaction to an article that deplored the fate of unemployed 50 year olds who nobody wants to hire for a wage significantly higher than what young employees are willing to put up with, despite their vast work experience. Butunoiu argues that nowadays very few jobs actually require very specific  skills that can only be acquired through decades of specialized work, and that young employees are more dedicated, proactive, energetic and innovative than their elder counterparts (cheaper as well, of course). What's more, Butunoiu claims that very few skills cannot be taught on the job in a fairly short time.
Of course, in some fields, such as engineering, there is need for very specific, technical skills.  Yet there's also a clear deficit of graduates with the right skills to enter these professions. According to some statistics, Romania needs 35,000 new engineers. At the same time, at least in Romania, the number of college graduates has increased by 70% in five years, with the vast majority of them going into so-called "soft" professions (media analysts, political scientists, international relations specialists, lawyers, etc.). One can only wonder: are we doing the right thing with our current world view on higher education and employment policies? The sober answer is most probably not.
By some accounts, 65% of kids entering school today will end up in jobs that don't yet exist. Since it's unlikely we will invent a magic crystal ball to tell us what professions will be shaping the labour market in 20 years time, or that a new labour-intensive industrial revolution is just around the corner, we'd better come up with other more immediate and practical solutions to tackle youth unemployment.
One of them, in my opinion, is entrepreneurship and support for youth-led SMEs. In this respect, a recent programme of the Romanian government offering grants of 10,000 EUR for young people willing to start up a business, together with state-backed loan guarantees, is commendable. Fostering entrepreneurial education and teaching students the necessary skills (creative thinking, innovation, collaboration, "the big picture") are also equally essential. Let's see how that EUR 6 bn cake gets sliced… and hope that such worthy programmes get more than a "sandwich-sized" share.
Tags: Eastern Europe, education, entrepreneurship, labour market, labour market reform, mismatch education labour market, romania, unemployment, youth policies, youth unemployment