Formalizing Tradition, the Tianguis Example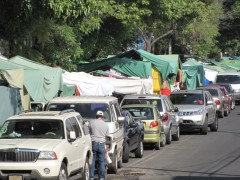 Folklore suggests the Mesoamerican Tianguis (street markets, or as we call them in Mexico, "markets on wheels") were created many years ago, when the hungry farmers decided to organize in order to bring their products to bigger cities and sell them. These markets grew larger and became part of our everyday life. There, we could easily find vegetables, spices and other products for our meals. But today, Tianguis have turned into something different – and something considered a bit more problematic.
Glasses, movies, Chinese toys, candies, music, videogames, traditional tacos, vegetables, clothes, trash, people… porn… piracy. This and more you can find at the Mexican Tianguis, where an honest environment is mixed with an illegal market that has gotten out of the government's control.
Due to unemployment and subemployment, the Mexican government has been forced to accept this type of market. In some cases, it has managed to quasi-legalize these places that seem to be some kind of nomad labor factories that move from one street to another depending on the day of the week.
The attempts of formalizing the Tianguis have not been fairly fructiferous, and in fact, the implementation of these unorganized measures based mostly on tradition has confusingly divided these markets in two brands: the quasi-legal and the illegal ones.
The quasi-legal Tianguis are managed by worker associations –such as the "Unión Social Única de Comerciantes y de los Estados."– that receive permission from the government to establish their markets on certain places and certain days, with the only condition that they have to pay for cleaning up their mess once they're gone, and that some gifts for the functionaries may be accepted… occasionally.
Unfortunately, not everything that shines is gold. In Mexico a quasi-legal system doesn't pay taxes, doesn't take the responsibility for blocking the streets (thus engraving major traffic jams), isn't compatible with the concept of employee fringe benefits and seems to be an unjust kind of competition for the legal markets which are naturally becoming more expensive, comparatively speaking.
In addition, other Tianguis fit into the second category of illegal establishments that work publicly under the protection of bribes. Vendors sell stolen products along with legal ones at unimaginably cheap prices. Unsurprisingly, the system revolves without any kind of national or local governmental control.
In contrast with the formal markets, the Tianguis –in either of the cases– don't favor progress and development. People working for numerous hours a day, for very small revenues, not paying taxes, and selling bad quality products at cheap prices (excluding the traditional food sellers), are not concerned about elements of the larger social welfare environment such as education or healthcare. Tianguis thus create a cycle of poverty rather than better job opportunities. Once you get in this rut you'll never be able to climb up to higher economic status possibilities.
Daniel Kapellmann is a member of Global21, a student network of international affairs magazines and a partner of FutureChallenges.
Tags: economic status, illegal establishments, markets, Mexico, Social Welfare, subemployment, Tianguis, unemployment, worker associations