France: Greens collapse in Earth Day vote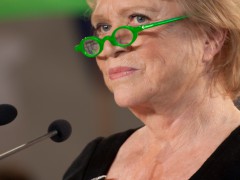 Earth Day 2012 coincided with the first round to the French presidential elections which took place on 22 April. France's Green Party faced a major setback, receiving a paltry 2.3%, posing the question of whether environmentalist movements can achieve more widespread political power.
Earth Day 2012 brought together an estimated 500 million people across the world to raise awareness about environmental issues. From their inception,  environmental movements have been marked by a strong participation by regular citizens and civil society organizations. But beyond this, some have also sought to influence the political process, or even achieve power, so as to change the existing policies that, in their eyes, are responsible for the world's environmental degradation.
Contrary to the predictions of many political observers, the Green Parties have not been an ephemeral phenomenon and have developed into strong political factions in many European countries. Their rise came concomitant with a shift towards post-materialist value orientations in many developed countries. Green Parties are not simply niche political movements. Most successful parties have built up an ideology that not only includes environmentalism, but also a broader set of issues that touches on traditional political debates such as social justice, consensus decision-making and pacifism.
A French anomaly?
France's Green Party, established in 1984 and rebranded in 2010 as 'Europe Ecology/The Greens' (EELV), while a permanent fixture of French politics, has struggled to achieve the same success as many of it's European neighbors. The 2012 presidential elections were nothing short of disastrous for the Greens. Despite holding out some hope until the eleventh hour because of the high proportion of undecided voters, the Greens' presidential candidate, the Norwegian-born Eva Joly who made a name for herself in the 1990s as a anti-corruption crusader, was eliminated Sunday in the first round of voting with a score of  2.3%.
In June of 2011, the Greens were seen as a contender for third place in the first round of voting with polls giving Joly around 7.5%. This highly disputed position comes with considerable political clout as parties negotiate run-off support. The party's momentum had been building following impressive showings in the European parliamentary elections in 2008 with 16.8% nationally, 12.5% in regional elections in 2010 and the creation of an independent parliamentary group in the French Senate following the elections in 2011. In June and July of 2011, Joly won the nomination by a comfortable margin against her opponent, the well-known media personality Nicolas Hulot.
Eva Joly developed her campaign around two central axes, morality in politics, la République exemplaire, and traditional Green ideas. She has continually oscillated between these two axes leaving many critical of her incoherent strategy. Léo, a 26 year old law student and EELV sympathizer, sums up general opinion nicely saying that "she is someone really strict, she hates corruption more than anything… Nevertheless, I don't think the French understand what she offered our country".
Adding to the questionable electoral strategy, the campaign has not been without its gaffes. In July of 2011, on the heels of her investiture as candidate, Joly sparked controversy after she proposed permanently canceling France's traditional military parade that takes places every year for Bastille Day.
The other German model.
The Greens have long sought to emulate the success of their brethren over the Rhine. Alliance 90-The Greens, Germany's Green Party, has steadily built up a reliable electoral base since the 1980s. In federal elections in 2009, the party won 10.7% of the vote, giving them 68 seats in the Bundestag. The party has also held important positions in government. Joschka Fischer, a Green politician, served as Vice Chancellor and Foreign Minister alongside two other green ministers in the cabinet of Chancellor Gerhard Schröder from 1998 to 2005.
Germany's electoral regime is much more proportional than France's, making life more difficult for small French parties. For seats in the Assemblée Nationale, the lower house, and the Senate, parties are often reliant on compromising agreements signed with larger parties between the two rounds of voting. This system, established by the 1958 constitution founding the Fifth Republic, sought to bring more coherence and stability to traditionally tumultuous French politics at the expense of representation of small parties.
However, this cannot alone explain the Greens' woes. The party has also been continually burdened by strategic differences, political infighting and lackluster leaders. During the primaries, the boisterous Franco-German politician Daniel Cohen-Bendit, very active in the French Green Party, openly asked whether the Greens could have more sway by participating in the Socialist Party's primaries.
Does France need a Green Party?
Despite France's massive reliance on nuclear power for its electricity, which is principally animated by economic and not environmental concerns, the French tend to have progressive views on many environmental questions. A recent Opinion Way survey found that 66% of French believe that the presidential candidates have not paid enough attention to the country's "energy dilemma". Indeed, in Europe as in France, parties on both sides of the political spectrum have "greened" considerably over the past few decades. Still, for many, Green political parties are not just about putting environmental issues on the table.
The Greens see their party as a standard-bearer for environmentalism in a political system in which all candidates a minima pay lip service to environmental issues. Back when their political fortunes were looking brighter in late 2011, the Green's drove a hard bargain while negotiating a legislative agreement with the Socialists, although they failed to pressure Mr. Hollande, the Socialist frontrunner in the presidential elections, to adopt a harder line on the nuclear issue.
More recently, Mr. Cohn-Bendit was highly skeptical of what he saw as an disingenuous "environmental conversion" by the extreme-Left candidate Jean-Luc Mélenchon, who benefited from a spectacular surge in support relatively late in campaigning for the first round of presidential elections.
The Green's project for 2012 cannot be reproached for being unambitious, touching on issues ranging from deficit reduction to education reform. The party has constructed its own political ideology that transcends environmental issues and draws on traditional Green themes such as social justice and pacifism.
Léo, formerly a member of the nominally autonomous Socialist youth party, the Mouvement des Jeunes Socialistes, believes that "[s]adly, we [Socialists] really have a need for EELV, most people in the Socialist Party have no real consciousness of environmental issues. For them, production and consumption are sacred cows that cannot be challenged". Even among the youth, he laments that "the environmental ideas are pretty much on the same level as 30 years ago". Green Parties are not just about getting environmental issues on the agenda. It is about a "paradigmatic shift in the way we think about the world".
Tags: Earth Day, Environmentalism, Eva Joly, French presidential 2012, Green Party