Towards A Gender Friendly Economy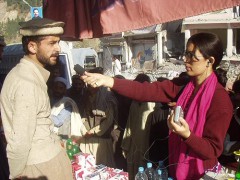 One question frequently voiced in Pakistan is why many educated women decide to sit back at home rather than working and participating in the country's economic growth. Currently the literacy rate is improving along with a positive increase in the female to male education ratio in Pakistan. So why is it that so many female graduates don't go into full time work? And even when they do, many of them leave with no consistent employment record?
While there are a great many women striving to study and work regardless of their financial situation, in a patriarchal society like Pakistan, many girls are only sent to universities because a degree makes for a better marriage proposal. In universities it's very common for girls to drop out in their 3rd or 4th year, and even if they do manage to complete their degrees, they're quickly betrothed afterwards reducing any chances of them working fulltime.
We should note here that this doesn't always hold true: the upper segment of the society has always allowed its women to work and study, whereas the middle class is now making radical changes in its views of working women. But we should also note the huge number of workplace incidents that make this slow transition towards better and more equal employment prospects even more painful.
One of the major factors at play here is that offices are not designed to be women-friendly. Victimization, discrimination and sexual harassment of women at the workplace is rampant and goes almost totally unreported. Many women who are victims of harassment and wage discrimination are often not even aware of it. Talking about this with their colleagues and discussing it with others becomes too risky and can make them lose their jobs. What's more, the deeply engrained culture of the major organizations in the country makes it very difficult for anyone to report their managers or higher level employees – a case in point is given here.
When it comes to bonuses or pay raises, employers (especially those in the private sector and non-governmental organizations) always discriminate against women employees, asserting that women can never be long-term employees as they eventually leave after getting married or falling pregnant. Which brings us to the very poorly handled matter of maternity leave, a women friendly-environment and the ergonomics of the workplace itself. Many female workers stop getting on in their jobs because it strains them out with long hours, no restrooms or sometimes even no separate toilets for women.
We might consider ourselves liberal, but a not so silent majority of very religious and conservative people, especially when it comes to dealing with women, makes it harder for girls to argue with families. Men in the family think they earn enough to feed their wives and daughters and this view often becomes mixed up with questions of honor too. So when stories of sexual violence, abuse and discrimination do go around, it becomes taboo for women to even think of joining organizations that oppose them. And even inside such gender-focused advocacy organizations, such stories are common with men leading the organizations and intimidating and harassing their female colleagues.
So if someone now asks why do we even educate women if all they're going to do is stay at home, we must question their intentions and call for policies and support groups for working women to make the workplace free of gender discrimination, and force families to support their women against harassment and discrimination at work. It might be a bit tricky for bureaucrats to devise such policies considering that the state is largely dominated by men, but  even so we really do need to step forward about this and talk openly about workplace harassment and gender disparity.
Tags: discrimination, education, pakistan, working women