Energy policy: Politics vs. Physics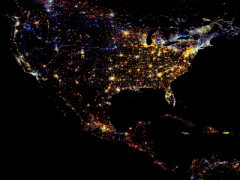 The panel discussion "rethinking energy policy" featured representatives of the major energy industries, including oil, gas, wind and solar. Naturally, each one tended to defend the virtues of his particular sector, but the debate was cordial and there was a general recognition of the need for each industry in a diversified approach to energy.
It was readily apparent both how politicized energy is, how much governments have real options in choosing what they want for their country, but also of the real limits imposed by physics and available technology
Wolfgang Schüssel, former Chancellor of Austria, stressed the potential of European integration saying "a single European energy market would save billions of euros" and claiming that a "Single European Sky" would lead to a 16% reduction in emissions from aviation.
At the same time, Schüssel worried policy could also undermine energy. "We are shifting towards more Étatique [Statist] solutions, which could lead to misallocation of investment," he said. He cited solar subsidies in overcast Germany as one example. Solar receives half of German renewables subsidies but produces only 10% of renewable electricity.
This led to some testy exchanges over the potential of solar and other renewables to provide 100% of countries' electricity. The debate's chairman, Henrik Müller, asked "Are we going to turn the entire country [Germany] into a wind park?"
Oil: "Too valuable to burn"
Sergio Gabrielli of Petrobras, Brazil's leading energy company, was unfazed. Even as per capita oil consumption in the developed world is diminishing, demand in the emerging economies is more than making up for this. Oil's relative cheapness and very high energy density ensured its future, he said.
As to the problems posed by instability in oil-rich countries, "That's part of the life of oil production," he said. "The decision of where oil production be done was made 250 million years ago and we cannot change that!" Hard to argue with where dinosaurs and plants chose to perish over the eons.
The importance of oil was conceded by the other participants, with Schüssel noting with irony "Oil is such a valuable raw material that it would be a shame to burn." Klaus Rave echoed this point, adding that oil remained critical for plastics and other petrochemical products.
But if oil is here to stay, governments have great freedom in how they allocate resources and how they plan for an uncertain future. It was a shame no nuclear industry representative was present as its role has clearly been "rethought" in many countries since the Fukushima accident.
Müller said he'd learned two things from the GES: "Basically the bottom line is the West is broke" and, regarding energy policy, "it's going to be very expensive." And yet, Germany is betting hundreds of billions of euros against nuclear and for renewables, the European Union is maintaining expensive policies promoting biofuels, and the U.S. continues a policy of massive energy inefficiency which contributes to its disproportionate greenhouse gas emissions and energy insecurity.
Clearly, beyond the limits of physics, there is room for national choice and improvement through good policy. If we fail in making the right choice and pursue a misguided policy, this will have more to do with the vicissitudes of politics: above all the inability to reach international agreements and government action guided by particular and sectoral interest, rather than that of the public.