Feudalism – When Trade Begins with Brutality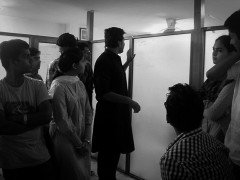 This post was produced for the Global Economic Symposium 2013 to accompany a session on "Trade, Poverty, and Inequality." Read more at http://blog.global-economic-symposium.org/.
Feudalism is defined as "a system for structuring society around relationships derived from the holding of land in exchange for service or labor."
Considering the effects of the feudal system in Pakistan, I would define feudalism as a tool for using the power of land ownership to obtain illegitimate control over commoners' lives. Feudalism is one of the root causes underlying unfair agricultural practices, inequality in the labor market, and poverty in rural Pakistan.
What follows is a photo-story that seeks to shed light on this issue.
Feudalism has definitely caused the over-centralization of money, power, and control in Pakistan. While agricultural trade is growing in the country day by day, no positive effects from this growth can be seen in workers' lives. Policies should be implemented to ensure the appropriate distribution of trade income, so the land owners are not the only ones benefiting and the workers are paid what they deserve.