Looking back at the GES 2013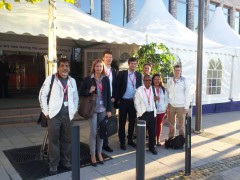 This post was produced for the Global Economic Symposium 2013. Read more at http://blog.global-economic-symposium.org/.
The two days of the GES have been unlike any other experience in my life, academic or not. It wasn't just the solution-oriented environment of the Symposium, the holistic approach to the topics or the sheer diversity of the people invited to what I had expected to be a run-of-the-mill economic conference. No, the thing that struck me most is the fact that a community of business-oriented people, economists and philosophers could find common ground on enough topics to make this conference work.
I attended panels boasting ethicists and economists, priests and professors. I heard an opening address on the nature of happiness delivered by an economist and a panel on economics and the growth paradigm chaired by a philosopher. I saw tough questions being tackled and tentative answers being offered. Most importantly, I was exposed to dozens of new ideas and challenges to old, entrenched ideas.
Now I'm not one to generally hyperbolise but I felt truly inspired at the GES by the panels and lectures, the attendees themselves and the rest of the people in our blogging team and their posts on panels that I couldn't attend. As a non-religious person, perhaps the greatest praise that I can give the Symposium is to say that it was almost spiritual at points. The experience moved me and it led to a prodigious number of posts and a wealth of new knowledge.
"Dennis Snower: We plunder our planet to produce material goods from which we expect great pleasures that fail to materialize." #GES2013

— GES (@The_GES) October 1, 2013
So, what did I take home with me? Plenty. But more than anything else it taught me to think off the beaten track and look for solutions outside of orthodoxy. "Redefining Success" – this year's motto at the GES – is about more than promoting growth or ensuring happiness, it is about finding a new paradigm, to use a much abused term. We need a new yardstick for success, one that does not reduce everything to measuring wealth or, even worse, 'growth'. While Bhutan's GNH might not be an adequate solution for the western world, because, as someone in the closing plenary said, we really do enjoy our 'plunder,' we need to rethink the way we assess our success other than in pure material terms.
We live in the wealthiest, safest time in history but just as our riches and technological gains would have seemed unimaginable to a person 100 years ago our society would be equally unrecognizable. The slow encroachment of business on governance, the slow encroachment of governance on technology and the slow encroachment of technology on liberty are the main problems facing our society today – on top of a host of less philosophical disasters like climate change and resource depletion that threaten our very existence. Perhaps in this age of looming crises we need a new way to define ourselves that is not solely based on how much we own. Maybe it is time to include such aspects as how free we are, how healthy we are and how healthy the environment around us is when considering how 'successful' we are, rather than just zooming in anxiously on our relative status.
The GES has been a fantastic experience and I look forward to maybe covering it again in the future. Until then I'm left with a lot of good memories, a bunch of interesting ideas and some tentative solutions for change. All we need to better the world is work and willpower and if I've learned anything in Kiel it is that the willpower exists. Now all we need to do is to roll up our metaphorical sleeves and get stuck in.
Tags: future challenges, GES, GES 2013, Global Solutions