Redefine Success So As to Achieve Sustainable Development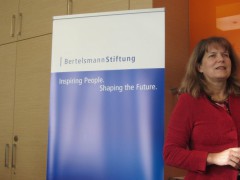 This post was produced for the Global Economic Symposium 2013. Read more at http://blog.global-economic-symposium.org/.
The United Nation's 2013 World Happiness report said Ugandans are the happiest people in East Africa, yet they are not the richest. Kenya, the region's economic powerhouse, was ranked the second happiest. This implies that economic success does not guarantee a happy life.
Redefining success was one of the key issues discussed at the Global Economic Symposium in Kiel, Germany. How do you define success? People across societies have different ways of defining it. Some define it by how much money they have in the bank, while others say success depends on one's goals, be it having a cordial relationship with your neighbor or giving a good education to your children.
Currently, the greatest challenge is to safeguard the success and development we have. This calls for governance tailored to sustainable development. Sustainability requires striking the right balance of political, economic, and environmental concerns.
Searching for new ideas to drive the world was the overriding objective of the Global Economic Symposium session "Governance for Sustainable Development." The task for the participants sitting is the small conference room in the Atlantic Hotel was to suggest solutions to shape future development to sustain generations.
I listened keenly to speaker after speaker to hear those suggestions, and they did not disappoint. With an entertaining moderator, this was a session worth attending. One speaker said, "If everyone got the wealth they desire, this world would be too small for the seven billion people inhabiting it. We would need a five-planet Earth." This is because everyone wishes to be successful. We all want to accelerate our wealth, but challenges such as scarcity of resources or lack of initiative limit us. These challenges include poverty, over-reliance on government to solve the problems of individuals, poor leadership, dependence on subsidies, environmental destruction, and inequality, among others.
Out of the session came several solutions to promote sustainable development. First, it was suggested that the subsidies countries give to their citizens should be eliminated to give people a chance to work harder and generate their own solutions. This should especially be the case for subsidies that go into public resource consumption. Today, such subsidies account for $1 billion annually in the developed world. It was argued that stopping subsidies for unsustainable resource consumption may at first appear to be a tough decision because it would hurt many people, but in the long run, it would encourage people to work harder, create jobs, and become more innovative.
There is also an urgent need for a UN post-2015 agenda to enable leaders to adopt the right policies and vision for their people. The time is up for the Millennium Development Goals; we need a new roadmap for material, economic well-being.
In addition, participants suggested that it is critical to focus on young people's education in the form of shared learning from local and global levels. We should not ignore indigenous solutions and must encourage participatory democracy.
Well, the session somehow sounded too hypothetical, and the biggest question for me is whether these nice-sounding solutions can be achieved in the real world.
The Ugandans surveyed said they were happy because they experience generosity, have someone to count on in times of trouble, and feel a sense of freedom to make key life choices. Money is necessary, but it's not everything. As social media has proved, everything in the world is about interconnection.
It is time to change the measure of success to something other than money — that's what we should teach our young generation.