Rio+20, a brush for a better world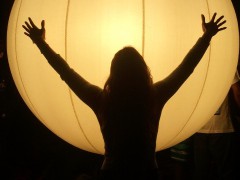 The following article deals with the topic "Effective Investments in Education," which will be discussed at the Global Economic Symposium in Rio this October. The author intends to enrich the discussion at the symposium with her personal stories and ideas.
From June 20th to June 22nd, Rio held the United Nations Conference on Sustainable Development. This conference was named Rio+20, because it is the twentieth anniversary of the implementation of the United Nations Conference on Environment and Development (Rio-92), a conference held in Rio as well, which dealt with the same big issue: sustainable development, and which defined the sustainable development agenda for the following two decades.
At the Rio+20 Conference, world leaders came together to shape how we can reduce poverty, advance social equity and ensure environmental protection in order to get a better future for all nations, or as the Conference's slogan says, the future we want.
During the days that surrounded Rio+20, Rio de Janeiro was filled with events for all types of people, inviting the visitors to think about the main content of the conference, educating all ages, starting a movement and actions for this future they were all talking about.
Events included interactive exhibitions, expositions, lectures, workshops, fun, and games. The city stopped to further the continuation of walking in a faster and larger step, engaging everybody in a week of responsibility and integration.
Among all the debates and cultural activities, important artists were involved in educating for a better world. Vik Muniz, a great, world-famous Brazilian artist who uses new media and unexpected materials (especially trash) to create his compositions, had a highlighted work in education for sustainability at Rio+20.
In a project called Paisagem, which means "landscape," the artist reproduced Guanabara Bay, one of the lovely examples of Rio's natural beauty and the city's main point of arrival by ocean, in an installation at Aterro do Flamengo. During the conference, Vik invited the public to contribute to the project by filling it with cans and PET bottles that usually end up as trash.
Tons of recyclable trash were necessary to "paint" the panel. Many people brought their own trash to contribute to it; everybody wanted to be part of the recycled world.
Kind of a contrast, the Bay's beauty was composed of things that we usually throw away at Baía de Guanabara, Guanabara Bay. The spirit of creating together with the public makes us all feel like we are part of the paint, we are the artists of the paint, we can construct it the same way we can destroy it, destroy the natural beauties around us. This could be reproduced for many other cities, mainly because we are talking about a global concern. It's really a nice idea to remember that we are all part of this system and, especially: we paint the future of our world.