The Roundtable: "Global Economic Fellows' Projects on Education, Innovation and Media"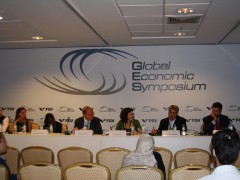 The following article deals with the topic "Global Economic Fellows' Projects on Education, Innovation and Media," which was discussed at the Global Economic Symposium in Rio. The author intends to promote ongoing discussion of this topic by sharing her personal stories and ideas.
The Roundtable "Global Economic Fellows' Projects on Education, Innovation and Media" brought to GES 2012 great ideas on developing a better world and resolving common human problems.
Four representatives, institutions and enterprises showcased their projects in order to exemplify their work and be evaluated by the discussant Rodney Schwarts. Everybody did great presentations, but here, I'm going to emphasize Will Snell's work.
Will Snell is the Director of Public Engagement and Development at DMI – Development Media International, an enterprise that runs radio and TV campaigns to change behaviors and save lives in developing countries, with a focus on reducing child mortality.
In Africa most children die because of lack of information. Diarrhea, for example, is a disease that affects lots of children in the country, and most of their mothers believe that to make the kids better they have to stop giving them water. So, the problem gets much worse, and they die of dehydration.
The project aims to work with these mothers, teaching them basic rules of hygiene for a better life, like simple hand washing. Since television and radio are the biggest means of communication in Africa, DMI "designs and delivers radio and TV campaigns to improve health outcomes by informing people about important healthcare issues and promoting behaviour change where appropriate" (http://developmentmedia.net/what-we-do).
Talking in the mothers' language, using their culture and their expressions, the campaigns hit the mark, making kids and mothers see their lives on TV, reflecting their reality, and with simple words, communicating important things that will make a big difference in a child's life.
You can see a video designed to teach the importance of hand washing here: http://developmentmedia.net/video-cambodia-hygiene-2003.
DMI still doesn't have the evidence to prove the effectiveness of its mass media campaign, but they are working on it.
As stated on DMI's website, "we are running a five-year, US$12 million cluster-randomized controlled trial in Burkina Faso, funded by the Wellcome Trust and Planet Wheeler Foundation, to test these predictions."
Child mortality affects many developing countries, and Brazil is also included. This kind of project can be a powerful tool to help get effective information to those who lack knowledge. It's good to see projects like this one, highlighting the value of good audio and visual information, helping to save lives and constructing the future world.