Global Media Forum: Deutsche Welle connected us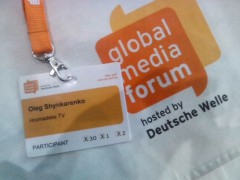 My German trip started 4 days before the Global Media Forum opening ceremony, because Deutsche Welle invited me to a workshop on digital storytelling organized by the famous Grimme-Institute. I met our teachers Annette Schneider and Guido Kowalski in the hotel lobby. We had a talking at the dinner about their institution, storytelling and awful situation in eastern Ukraine where the war with pro-Russian terrorists is going on.
On the next morning I met all of our group at breakfast. It turned out that I would be the only one from Europe if not Burak Sayin, a freelancer from Istanbul would have taking part. Many doubt that Turkey is Europe especially after reading some of Orhan Pamuk's novels. He mentioned so many typical Asian features, but Burak analyzed the country from a very European perspective. He even made fun of some conservative Asian old stuff in his digital story later. I thought that such youngsters would turn Turkey into a part of Europe in the near future.
Guido said that in three days we would make a video story from our personal photos or videos with an offscreen voice. Mine was about my book, a novel "Kaharlyk", an anti-utopia about Ukraine in 2114, 100 years after catastrophic Russian military invasion and devastation of our lands. I made a one minute short film about how my innocent fantasy about typical Ukrainian fears turned into an awful reality. I used a Creative Commons video from Youtube to picture Crimean occupation, the bloody massacre at the Maidan in Kyiv and Russian tanks next to the Ukrainian border. I did not expect at all that my thoughts and speculations could be so close to real life. Guido was so kind and helped me to film some useful video with me pictured my doubts about a form of my book. His camera, lens and tripod were very professional and with his skills we got my shots very quickly.
My Global Media Forum started on Sunday evening at the Press Club Bonn. There were so many colleagues from all over the world! I instantly met editor of Renewables & Water magazine Mohamed Darwish from Egypt. He was sure that the Ukrainian revolution was inspired by the Egyptian one. We managed to talk about that topic later. I was especially interested in African journalists  experience and there was a lot of them. My colleagues from Ghana told me about their local media owner who doesn't have mobile phone in order not to have "unpleasant" conversations with authorities and avoid censorship from their side. I am not sure that it can be really effective, but the only fact sounds very impressive.
From the first day of GMF on Monday I met even more lot of people including our futurechallenges.org international team. We are bloggers from around the world with an editorial board running firstly with Bertelsmann Foundation's large financial and organizational support. Today we are trying to run the project on our own and find funds for its sustainable development. The organizational core team in Germany is planning to create a kind of international blogger agency in mid term. At least we have a large scale bloggers net gathered at futurechallenges.org.
I visited many useful workshops and discussions, amongst them "See YOU in the future – New ways of digital storytelling" and "The rise of citizen journalism and its impact on traditional journalism in Russia". Russians were so concerned about their Internet and I can understand them: in the next year a new draconian law will become reality. It claims that no Russian can save his or her personal data abroad. Actually it means that citizens of the country will not have any possibility to create and support their accounts at Google, Facebook and Twitter. Russian government is so afraid of people uprising! This evening there was Deutsche Welle BOBs award ceremony where Ukrainian project yanukovychleaks.org got a prize. It is a database of docs of fugitive dictator Viktor Yanukovytch. Ukrainians made an uprising to throw him off, so now Putin is very concerned that no Putinleaks would be opened in the future.
I did not waste a moment and even had time for a couple of interviews for Ukrainian Public Radio: one with TOL  executive director Jeremy Druker and another with designers of Pocket-FM project. The next morning I had a great bike ride along the riverside from Deutsche Welle headquarter to Wassersportverein. The Google map service says that it is about 6 kilometers in one side. The last day boat trip was tremendous! By the way I noticed along the Rhein riverside several picturesque towns with mountains, highland castle and the inscription "Königswinter" on the bank. On the next morning I set out to Königswinter and Bad Honnef by city train. It went by a narrow ribbon of dry land between the river and mountains. I've never saw anything like that before!
Now sorting out visit cards of activists and journalists I picked up at the Global Media Forum I recall their voices and faces, I write letters to them, I friend them on Facebook and Twitter. Deutsche Welle made all these meetings possible. It connected us like it connects the different parts of the world everyday.
Read also: Memory Bytes – Deutsche Welle Global Media Forum 2014
Read also: Global Media Forum 2014: The Future of Journalism
Tags: BOBs, Bonn, Deutsche Welle, Global Media Forum, journalists, ukraine