God's abode for the homeless in a big city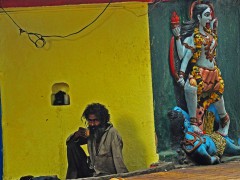 As part of our  coverage on "The New City" we asked our bloggers for some pictures from their cities. Are there any places in their cities that are prime examples for sustainable urban living? But it could also be a negative example in order to show how a city should not look like.
While the Indian city of Pune boasts of being one of the IT hubs in the country, the plight of the poor has not changed a bit. As authorities pay a deaf ear to these problems, only a God's home can home the homeless like this one, who is finding a place in a temple on the lane where I stay, to save himself from the scorching heat on a Sunday afternoon.