Hawking the "Decameron": poor women in Ukraine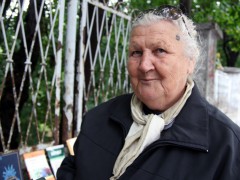 Valentyna is in her 70s. She sells used books on the street right under an old rusty fence. I come closer and pick up an extremely old copy of Boccaccio's "Decameron". She doesn't mind a bit of a chat with me and says that she has been in this line of "business" now for over 16 years. It gives her an extra 30 EUR a month, and goes well because people tend to read more in big cities than small ones.
In the past Valentyna used to work as an engineer in a "box". This is a slang term for a secret military installation which only had a mailbox number instead of the usual address. But in 1996 she retired and now gets  a pension from the Ukrainian state of 107 EUR a month. " I spend this money just on cheap food and public services,"  she says. "When I feel sick, I don't see a doctor. Treatment is too expensive for me now. Ten years ago I worked as a night watchman and managed to save up some money so that when I had a bad toothache, I could see a dentist". Today Valentyna has savings for only one month and when she is ill, she simply has to manage as best she can without seeing the doctor.
While talking to me, Valentyna keeps glancing around. Cops often come up to her and tell her none too politely to move on. "I don't only sell my own books but those of other people too. Of course I don't have any permit for my business from those in power". Valentyna has no faith whatsoever in state social welfare. "I know a woman who once got 5 EUR from the state. If I really need money, I'd rather call my grown-up children. Recently they helped me buy a new toilet seat".
Lyudmila is 27. She is a medical psychologist working for a private residential treatment center. She is now happy with her life, but her start-out was not all milk and honey. "I lived with my parents in the countryside near the provincial town of Soomy," she says. "I had to make a choice between working with my hands or with my brain. So I thought then: 'Digging up potatoes for 80 EUR a month is too hard for a girl like me!' and chose the second option."
Lyudmila graduated from a medical university in Kyiv (the capital of Ukraine) and decided to stay and work there. Her first job in a state social center was low-paid – it usually pays around 100 EUR a month – but it was an important item on her CV. A big city offers a lot of career opportunities and her present job pays enough to allow her to live quite a good life. The name of her native province, Soomy,  is similar to the Ukrainian word "soom" for "sorrow". Had she stayed there, she could have hardly found such a well-paid job and the state would be the last place where she could have gotten help.
"The state budget has no money for social programms" is one of the titles of today's news. We urgently need more than 300 million EUR and if the government doesn't find it, there will be no money to pay for even scheduled social welfare services. Some Ukrainian women are well aware of this and seem to be not resigned but prepared to meet even such a major governmental failure. Their indomitable and resourceful entrepreneurial spirit drives them to get a better education or to find some ingenious way of supplementing their meager pensions. I think Boccaccio would be inspired by their stories too.
Tags: Central and Eastern Europe, developing countries, Development, economic growth, entrepreneurship, job, ukraine, women, women in entrepreneurship, work