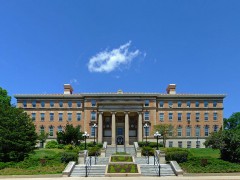 Budget battles in Wisconsin highlight Millennials' rough start in the working world
By Jamie Stark
While college is often considered a prerequisite for success in the American workforce (perhaps now more than ever), it is no longer a safety blanket in the journey toward financial stability and comfortable living. Recent graduates are willing to go just about anywhere to find work, consequently creating brain drains in their communities that lack employment opportunities. Governments at the state level must continue to invest in higher public education as education systems transform to equip students with the tools needed to find local jobs in today's tumultuous job markets.
The Millennial generation – defined as those of us born between 1979 and 2000 – has heard many warnings about its economic future.
In the United States, we Millennials grew up in an era of growth. Yet despite growing up in a climate of economic optimism, thousands of us college graduates in the Millennial generation now find ourselves misemployed, living at home, or unemployed. Some predict we're destined for economic scarring—long term economic struggles equating to lower earnings than the generations before us. Not quite the reality we hoped for or expected.
As we now enter this bleak future holding diplomas from institutions of higher learning, we meet our prospects of competitive, unpaid internships and entry-level jobs while carrying some of the largest debt baggage in America. Student loan debt now numbers above $1 trillion USD, higher than American credit card or automobile debt, and second only to mortgage debt in the United States.
What did we get from amassing such debt?
In states like my own, recent budgets have cut funding to public universities, often the foundation of higher education. Two years after cutting the 26-university UW system budget by $315 million, Wisconsin Governor Scott Walker appeared ready to put some money back into the system. He proposed increasing the next biennial budget for the university by $181 million, reinstating part of what he originally cut. But recent auditing brought to light a sum total of $648 million in reserve funds across the University of Wisconsin system, and now Walker and other legislators have threatened to backtrack on their plans to raise the budget again.
The budget battle brings up a tense subject: balancing budgetary realities with the paramount importance of education in the new job market.
Of course the university system, like any sprawling, high-expenditure organization, could use help for spending with more prudence. Regardless, Wisconsin's public university system is a tool that catapults our youth into employment. And with student loan debt now over $1 trillion, the money to fund education won't come from unemployed teenagers trying to earn an education.  Investing in the public school system is investing in the livelihood of the state and its residents.
If Wisconsin wants to keep Wisconsin talent, then UW needs to outpace the changing times and Wisconsin industries need to remain on the cutting edge of job opportunities. This is an opportunity for real symbiotic growth, of universities feeding industries with better workers, and industry generating growth statewide with informed leaders. Students from across the country and the globe have made Wisconsin their home after moving here for school. Some developed a Wisconsin twang and learned to love cheese curds. But they will only keep coming if the education available is on the bleeding edge, and they will only stay if promising jobs are on the rise.
The UW system is – like many universities – an innovation generator, as demonstrated by the new Wisconsin Institute for Discovery and Morgridge Institute for Research, a hub of stem cell research, which began in Wisconsin. In just the last month, two separate research grants to these centers alone have brought $44.2 million to the state. Our university is a source of cash, careers and innovation in a state that needs real job creation.
Tightening the belt on the university for the benefit of other expenditures, like the specific corporate tax breaks instituted by Walker, may unintentionally but deeply harm an education system that needs to adapt quickly to a changing economic market and reap the benefits of locally employed, educated Millennials . Our Millennial generation requires college degrees that keep pace with the rapidly changing economy; we don't need a slowly bleeding institution struggling just to maintain old standards.
Higher education and its accompaniments – critical thinking, professional knowledge and personal connections – prepare students for Wisconsin industries, old and new, tech and manufacturing, green and traditional. That is exactly what the state, any state, needs to stay ahead of the changing market.  But adapting will require universities to think outside of their ivory bubble. Institutions of higher learning must put greater emphasis on teaming up with major industries to think strategically about the skills students will need in our rapidly evolving economy.
Rising tuition unbalanced by declining university budgets can translate to less access for low-income students, lower paid faculty and shoddier facilities, ultimately lessening the relative value of an educational institution in the ever-competitive land of learning. Millennials need more, and the state needs more too if it wants to keep its local talent.
Bipartisan sentiments, myself included, agree with Gov. Walker's proposal to freeze tuition in the name of more affordable education. His plan to inject $20 million into jobs-focused education at the university level is a crucial start to turning the tide in a university system that fails to foster enough entrepreneurial activity post-graduation.
But the sticker shock on a college degree remains, despite its value in the working world. The fight to make more than our parents will be an uphill battle thanks to circumstances beyond our control.
We must fill the gap between the past and the future. The older generations, who helped create our economic woes, have learned primarily to share their hopes that we solve their problems. Living with the past's decisions in our present, we design the future, where technology and workplace ideas are changing rapidly.
Without feeling victimized by our parents' and their politicians' mistakes, we can embrace our impending economic reality and be grateful it may fit our entrepreneurial passions. Let's make sure we're getting the right learning to be ready. Someone has to teach the next round.
Tags: job market, Millennials, public university, recent grads, Scott Walker, University of Wisconsin system, UW-Madison, Wisconsin governor