How bad governance unites both ends of the Mediterranean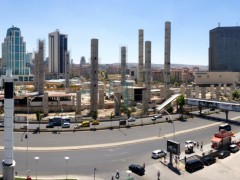 South of Ciudad Real in Central Spain lies a brand new airport with one of the longest runways in Europe, state of the art facilities and a capacity of 10 million passengers a year. Its only problem is that it is closed.
The airport ceased operations in April 2012, less than four years after opening. You might think it was unfortunate timing, coinciding as it did with the crisis, which turned this billion-euro investment into a white elephant. Yet critics claim that its investors were unconcerned with the profitability of the actual airport, and rather focused on the profits to be made from its construction[1]. You don't need to look long to stumble upon a similarly fated (or intended) project in crisis-stricken Spain these days; ultra-expensive but underutilized cultural centers, half empty high-speed trains, and brand new housing projects that lie vacant now litter the Spanish landscape.
How does the Ciudad Real Airport relate to the present situation of Spain, stricken by tough austerity measures and struggling with ubiquitous unemployment? Anyone literate enough to pick up a newspaper can cite the property bubble as the universal truth explaining Spain's current misery.  Yet, the abundance of short-lived white elephant projects tells us something much more fundamental about the causes of the crisis. What kind of planning and feasibility studies have been done on these projects, and have they been published? What led public officials to grant permissions and make public resources available for such projects? What kind of an accountability mechanism is there to scrutinize such a gross waste of public and private resources? As vague as it sounds, the term "governance" is highly relevant for sustainable economic growth, perhaps at least as much as smartly-tuned economic policies. Without transparency and accountability, it is woefully easy to abuse smartness.
Around the same latitude as Ciudad Real, but at the other end of the Mediterranean lies another white elephant. It is a massive construction site in the center of the main business district of Ankara. Known as "the Iron Cage" among locals, the complex was intended to serve as a convention and shopping center when its construction was started in 2005 by the Ankara Municipality. Pretty soon, construction work ground to a halt because the complex did not have the proper land title and permits. For about seven years, nothing happened. A gigantic and bulky steel and concrete behemoth occupied the commercial heart of the city, providing residents of Ankara with a huge dollop of aesthetic frightfulness and much rich inspiration for dark humor, besides blocking roads and forming a bottleneck in one of the city's main transport arteries. Thanks to its prime location, the fate of the Iron Cage was better than that of the Ciudad Real Airport. Last year, realizing that more money would be made by selling the eyesore than using it as a giant billboard, the municipality changed the construction permits of the plot and sold the complex to a private developer who plans to erect a massive skyscraper. No official investigations have been launched on this issue so far.
For most people in Turkey today, words like austerity and recession fail to set any bells ringing. Nevertheless, most of them would be able to tell you a story or two from their own neighborhoods involving sudden changes of land laws, mysterious owners of new construction projects, and sidewalks that are re-built every other year. On this background, it is quite normal that the largest protests in the country's near history took place over a controversial shopping mall project in an Istanbul park. With Turkey's growing need for infrastructure and housing, it may not necessarily be a Spanish style construction-boom-and-bust flamenco that will send the Turkish economy down the drain. Yet, unless accountability and transparency go beyond being just buzzwords in translation, a Turkish soap opera awaits us: starting with innocence and hope, continuing with intrigues and deceit, and ending in a full scale drama.
Tags: Ankara, austerity, Bad Governance, budget, construction, Corruption, Eastern Europe, economic governance, economic growth, Mediterranean, public investments, public money, spain, turkey, white elephants