Wealth is a handsome hunk who lost his glamour overnight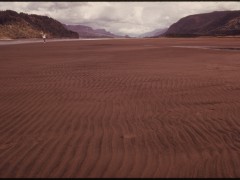 Will 2013 bring an economic drought?  U.S. National Archives via Flickr.com
Once upon a time, there was wealth. If we were to portray it, it would be a handsome hunk with long blond hair, blue eyes, pale skin, riding carefree, roaming anywhere, spreading his beauty and joyfulness all around. Hey, wait! It would be Brad Pitt in "Legends of the Fall".
Because wealth was so sexy, everyone was attracted to it. People all over Europe would travel to where wealth was to bask in its sweetness and take comfort in its promises of a better life.
But then 2008 came and wealth lost its shine once the financial crisis arrived. Just like Brad Pitt suddenly lost all his magic once he married Angelina Jolie. As the financial crisis deepened, the crunch quickened: foreign direct investment declined rapidly, unemployment shot up, demand for migrant labor dropped down and, as a direct consequence, there was also a slowdown in the remittance flows of migrant workers. It was then that I was convinced that all the joyous Western Union commercials of people sending money here and there and everywhere with such abandon were going to come to an end. And that Western Union would become the memory of an age when people acted like rich gamblers parting with their money like there was no tomorrow.
So when it comes to Romania – most of whose migrant workers are in Spain, now one of the countries most affected by the financial crisis – you might think that we are suffering as well, that all our good times are long gone. In 2008, workers from abroad sent 9 billion euro back to Romania – 548 million euro in January alone. A huge amount of money that seems hard to top in times of crisis yet still …yes,  it did actually happen here: in January 2012, Romanian workers sent back to the country the staggering  sum of 665 million euro, the biggest ever sent in just one month!
You might wonder, just as I do, how is this possible when it seems that all around Europe the financial Apocalypse is knocking at people's doors. Well, at least at the doors of those people who still have a door and a home. The National Bank of Romania said this could be the longed for moment when remittance flows are getting back on track. Ever since the 9 billion Romania cashed in 2008, the amount of money coming into the country has never topped the 6 billion a year mark.
But what does it really mean to say that the remittance flows are back on track? Moneywise, we should be happy because large amounts are flowing into the country. But as the amounts are higher than ever before we can think of two worrying aspects: firstly that more and more Romanians are leaving the country to work abroad; and secondly that this swell in the numbers of migrants accounts for the increase in remittances. The first point means that working and living standards in Romania get poorer by the day. Sure, remittance flows are a way for a country to make some cash, but the flipside of this should worry us since it implies that Romania cannot provide its citizens with the minimum income for a liveable lifestyle so they decide to look for satisfaction someplace else. The remittance flows that do enter the country are used by beneficiaries to support their day-to-day existence and not for startups or whatever entrepreneurial ideas might occur to them that would need remittance aid to get them off the ground.
It is the end of the year so I cannot end this blog without some predictions. My horoscope says I am going to have a good professional year but apart from that, which I am sure doesn't interest you much, the economic situation will get worse. I don't think I am the first to break this bad news to you as specialists warned us months ago that our reckless consumption will put us on the road to hell: we consume far more than we produce. Moreover, we borrow money that is not our own to consume even more and, of course, we never have the money to pay it back because if we had, we wouldn't have needed to borrow in the first place. And as we know history repeats itself because we are impervious to the lessons of the past.
Have a Happy New Year. We don't know if the rest of it will be so great.
Tags: Central and Eastern Europe, consumption, economic crisis, growth, migration, remittances, romania, wealth