Returning Indians in Search of the Indian Dream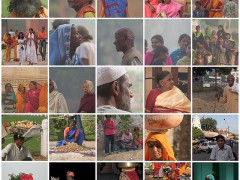 At a recent dinner I bumped into two second generation Indians who had, a while ago moved to India from Britain and the US. Ravi had managed to jump the hurdles and settle down and was quite happy, but Neeraj's story was different.
Neeraj is a software engineer who returned from the US and is presently living with his family in Bangalore. He said he is going back to the US  because he doesn't like the kind of person he's becoming in India. Even though Bangalore offers him the best in terms of work and lifestyle, he still feels he has to fight every step of the way for basic things like getting work done in his house or getting a telephone line. And he's tired of being cheated by his domestic help and of fighting traffic.  He's also fed up of the culture of having to suck up to people to get every little thing done.
Many second generation Indians like Ravi and Neeraj who have cultural and ancestral roots in India are returning home these days for professional and personal reasons. The parents of second generation Indians were generally highly skilled professionals or graduates. Now their children want to come back to India and work and live here – in other words experience the country!
These people are sometimes met with a certain incredulity when they reveal that it's their own decision to come back to India and settle down here, as their relatives or extended family presume that most Indians would want to go to the West for a better life. They are often asked if they have been laid off work due to the recession. Well, sometimes, this might be true as the slowdown of the economy in the West has resulted in many job losses.
In fact, many of the emerging economies, especially China and India, are attracting the second generation with opportunities for professional growth and the first generation too who want to come back to their roots, knowing that India can now offer them the comfort it could not earlier. India's economy might be growing at a slower pace than in previous years, but it still is expanding at a rate of 5 percent while Western economies are stagnating. Supported by a good lifestyle, and with educational opportunities for their children, it's a new India they see. Some of them are also keen to make economic investments in India.
Indians with foreign citizenship also can benefit from schemes like the OCI (Overseas Citizenship of India) or a PIO (Persons of Indian Origin) which are open to the children, grandchildren and great-grandchildren of Indians born in India, and former Indian nationals. This  reverse trend, in which the children of those who left their country decades ago are moving back to India,  is growing. They also have the good fortune of being able to shuttle between two countries whenever they want to. Their migration trajectories are being shaped by transitions in socio-economic conditions in their country of origin and their host country.
When it comes to professionals, they are usually from the information technology (IT), finance and media sectors. They are attracted by the exciting career opportunities now on offer in India, and the hope that they will be able to achieve what would otherwise take a much longer time  abroad. Ravi revealed that it was the business opportunities in India that made  him move. Labour is cheap, and he  can afford a much more comfortable lifestyle at a much lower cost. He says his parents keep asking him when he will return to Britain but he has no answer yet. He is here to pursue his Indian dream.
Some of the personal reasons Neeraj stated for making the move are: wanting to explore his identity, culture and heritage and learn more about his parental homeland and ethnicity. Plus he got a very good opportunity workwise.
For many the pull factor is the opportunity to experience India by themselves and live life as independent adults, together with a desire to learn more about their language and culture and reconnect with the Indian aspect of their identities. But everything doesn't go smoothly for everyone. You've got to learn to navigate the hurdles in pursuit of your dreams, otherwise it can be quite frustrating!
Tags: business, culture, heritage, india, language, migration, returning Indian, work opportunities