Indian Women – Corporate Divas or Ordinary Janes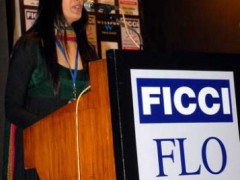 Do bright colors, festivities, spicy food, heat, dirt, poverty, or spiritual retreats ring any bells when you think of India?
And what about Indian women? Exotic is perhaps the first stereotype that springs to mind. Well, the Indian woman is certainly more than that! In a country rife with unemployment, poverty, hunger, illiteracy and gender discrimination it is quite an achievement that a number of women in the corporate sector have made it to the top. But the majority of average Indian working women still have miles to go.
Corporate Divas
Although traditionally the corporate world has been ruled by men, with most senior management positions being occupied by them, social change in the past two decades has opened the doors for women. There have been some very successful women leaders in the corporate sector. But overall their number is still low and the average woman has still to get there. According to the World Economic Forum's Gender Gap Report 2011, India has the lowest percentage (23%) of women employees.
One striking example of a corporate diva is Chandra Kochar the Managing Director and Chief Executive Officer of ICICI Bank – India's largest private bank (headquartered in Mumbai).She began as a management trainee in 1984 was promoted to Assistant General Manager in 1994 and from then on there was no looking back.
Similarly, Sulajja Firodia Motwani the Joint Managing Director of Kinetic Motors and Managing Director of Kinetic Finance has single-handedly designed and developed the marketing strategies spearheading company growth. She was rewarded with the Young Achiever's Award for Business in 2002, named Global Leader of Tomorrow by the World Economic Forum in the same year and cited as the "Face of the Millennium" by 'India Today'.
Kiran Mazumdar Shaw, Naina Lal Kidwai, Indra Krishnamurthy Nyooyi, Indu Jain, Swati Piramal, Mallika Srinivasan, Preetha Reddy, Priya Paul, along with Chandra Kochar and Sulajja Firodia Motwani were selected as the top ten Indian women who run powerful businesses in 2011.
But many of these women had taken over the family business or came from very privileged backgrounds. For the average Jane it is still a struggle.
What about the average woman?
Walk into any of the corporate sector offices (ITES, IT, banking, hospitality, BPOs, KPOs, and MNCs) in India and what greets you is a comparatively large workforce of women. But if you want to talk to the Senior Manager, you'll usually be faced with a man! Why is it that although this sector provides the best opportunities for women, there are still so few women in senior management positions.?
Is it because of the socialization of women, their aspirations and values or is it because institutions need to be reshaped to accommodate them? Should organizations be more gender sensitive? Is there a prevalence of gender biases and discriminatory laws? Are there policies floating around which rarely get implemented?
Generally the common impediments to moving up to managerial positions are pressure on women to get married or family obligations that come with marriage like having to care for elderly parents or in-laws. Women usually take a break when they go on maternity leave and give up their careers to take care of their children. And then if companies don't have gender sensitive policies and work with flexi-time, women usually don't want to return to work. Sometimes they lose confidence when they know their colleagues have moved on to better positions.  For women the inability to strike a good work/life balance is a major deterrent.
On other occasions women are also not willing literally to 'go that extra mile' and look for jobs at a longer distance from their homes, prefering to seek employment that does not involve too much travel. This could be one of the reasons why companies prefer to hire men. So offices seem to be losing most of their experienced women employees as they go along, and thus women's  chances of being promoted to senior management positions are also lost. At times women themselves don't want to work late hours, possibly for fears for their personal safety. Now and then women workers are perceived as incompetent if they wish to work flexi hours. Thus lack of gender sensitive work policies are major setbacks, and even when such policies are in place they are rarely used.
With companies like Wipro, Google India, Infosys, Ernst and Young's Global Shared Services and American Express, trying to hold on to female employees by using family friendly perks and gender sensitive initiatives, retaining them till they reach senior level positions should come easier.
We have yet to see a more proportionate gender representation at work and at senior level management. But there is a chance that this could happen if women break with the traditional gender roles expected of them and accept lead positions with more ambition and drive. More inclusive and gender friendly policies and initiatives would certainly help!
Tags: corporate sector, employment, Indian women