India's Quest for Olympic Prominence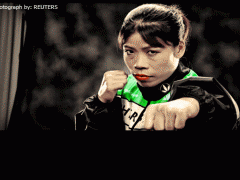 The Olympics was never about winning or losing; it was always about endurance. It is still about endurance and with endurance comes the pain and the glory. At the Olympics, every athlete is a winner. Some win their share of the limelight while others live to train for the next Olympics. At the end of the day, the flag always flies high whether it's an Indian flag or an American flag. It is the truest platform where "I vs I" comes alive!
"I vs I"  is not about defeating an opponent; it's about winning against oneself and against all odds. It's about taking the mind and the body onto a different level of endurance where pain and glory gets redefined. David Rudisha of Kenya created history with his gold-winning 1min 40.91 sec timing in the men's 800m track and field. But he won much more that day. A lone Indian, Sushil Kumar, fighting for his piece of glory also created Indian Olympic history, by winning medals in individual categories in two successive Olympics.
In the London 2012 Olympics "I vs I" was taken to a higher platform with new records, new athletes, and more guts and glory. As each event concluded, the randomness of unpredictable winners came to the forefront. Six Indian faces glittered brighter than gold. Saina Nehwal, Sushil Kumar, Yogeshwar Dutt, Mary Kom, Vijay Kumar, and Gagan Narang are the six athletes who not only won medals but also achieved glory in the "I vs I" (India versus India) contest.
The London Olympics is special because this was the highest haul of medals in India's Olympic history. While India rejoiced, the national hockey team, and other athletes like Basanta Bahadur Rana, Ngangbam Soniya Chanu, Leander Paes, Sania Mirza, Soumyajit Ghosh, Vijender Singh, and Abhinav Bindra were left to tend their wounds in silence. In this "I vs I", India won and India lost!
Could India have won more than 6 medals in the 2012 Summer Olympics? The question now staring us in the face is: how is it possible that the second most populous country on earth could only win 6 medals? A strong contingent of 83 athletes and yet not a single gold medal in sight. Is it because of a lack of training? Is it because of a dearth of talent in the country? Or a lack of motivation? The truth is that we as a nation have been making policies on sports in the country and discarding them. Some policies have been created but not implemented so far. Some policies have been implemented but due to lack of awareness, have not borne any visible results.
It is high time, we embrace change – a change that will be positive and will initiate implementation of policies as well as create necessary awareness. A change that will have its place in the history books for future generations to learn from!
Here's a small PowerPoint Presentation that might provide an answer. India – An insight into the past, present, and future bares some of the facts and points out what might be the possible reasons for the scarcity of medals in the Olympics and how India can best prepare for Rio 2016:
Tags: 2012 Summer Olympics, Athletes, india, Olympic Games, Olympics, sports