Are Sports an Unfair Game for Women in India?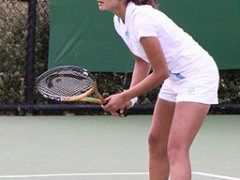 "As an Indian woman of the 21st century, what I find disillusioning is the humiliating manner in which I was set up as bait in a ploy to try and pacify one of the disgruntled stalwarts of Indian tennis." Sania Mirza
The two times Grand Slam champion and India's number one female tennis player Sania Mirza blasted the All India Tennis Association (AITA) accusing them of gender bias in the tennis team selection for the London Olympics 2012.
Not being  consulted when the players were selected for the tennis doubles to represent India at the London Olympics,  Sania felt "shaken" and "disturbed" by the treatment she had received at the hands of the AITA. Although given a wild card entry, she  felt she was put up as "bait" to pacify Leander Paes the tennis ace of India (and the country's only tennis player to win an Olympic bronze medal bronze at the 1996 Atlanta games in men's singles) by being selected to partner with Vishnu Vardhan, a lower ranking player. She  had never partnered with Paes in a grand slam and would have preferred to partner with Mahesh Bhupathi having already won two grand slams with him. But was she given a choice?  No!  Since Bhupathi and Rohan Bopanna,  refused to partner with him (Paes) in the men's doubles and paired up together instead, India was forced to send two teams to London for the men's doubles in tennis. Initially Bhupathi and Paes were to double for India.
"While I feel honored and privileged to have been chosen to partner Leander Paes, the manner and timing of the announcement reeks of male chauvinism…….This kind of blatant humiliation of Indian womanhood needs to be condemned, even if it comes from the highest controlling body of tennis in our country" Sania Mirza lamented in her letter to the AITA.
Is India  grappling with gender bias and discrimination when it comes to sports and games? It sure is… just like many other countries! Sportswomen like Saina Nehwal,  P.T. Usha, Sania Mirza, Jwala Gutta and other players have all faced discrimination whether it's differential treatment in the  community, at the hands of the sports authorities,  at country level or even discrimination in their own families. P. T.Usha, India's former sprint queen broke down in front of the media in 2009 talking about the discriminatory treatment meted out to her. Sexual harassment by the coaches is also nothing new.
The finest (female) tennis player in the country, Sania Mirza's personal life has always been headline news. The much talked about break up with her former fiancée, her marriage to the Pakistani cricket player Shoaib Malik, her skirt moments or why she shouldn't wear them, or the bold statements about her tee shirts have made the spotlight, not to mention her superb performance on the tennis court. It seems that being female and a celebrity is more interest-grabbing than her  much more vital role as the country's top female tennis player. Are the fetching looks  of a woman or what she wears  more important than the actual "game"? Sania has come a long way and managed to enter a field crowded with big male achievers. Even so, this does not mean that she is spared discrimination!
Among several other incidents, the recent  letter written to the sports minister Ajay Maken by the  National Commission for Women after the Board of Control for Cricket in India (BCCI) made a payment of  about USD 12.5 million from the Indian Premier League's profits to former male cricket players for their pre-2004 contribution to the game is yet another  clear case of gender bias. The commission demanded that former female cricket players should also get a share of the payment for their contribution as well.
It's not about competing with men. It's more about women also being  entitled to equal rights as citizens or players representing the same country as men do. Why do they have to fight all the time for what is merely equal entitlement? But I guess that's always been the case. And  here women are three times disadvantaged: firstly by being a woman; secondly by being a woman from a developing country; and thirdly by competing in a male dominated field like sports.
In a country where many powerful women have led movements, and been great leaders, and which boasts prominent female players like Sania Mirza, P.T Usha and many others,  it's not next to impossible to do away with gender discrimination and change the way women are treated. The status of women in  sports can undoubtedly change if women like Sania take a stand or seize the initiative. What Sania did was laudable. Women have come a long way… if only the same were true of the government!
Tags: Cricket, discrimination, equal treatment, gender bias, Leander Paes, Mahesh Bhupathi, male chauvinism, Olympic Games, Sania Mirza, sexual harassment, sports, Tennis, women