Is Uganda losing the quality of Education battle to businessmen/women?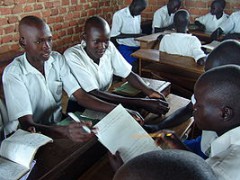 For years Uganda has enjoyed the advantage of providing better quality education in East Africa. Thousands of students from neighbouring countries have often sought higher education from Uganda compared to Ugandans studying in those countries.
However, there is a growing fear that this advantage may soon wane. The fear stems from the introduction of Universal Primary /Secondary Education that has been marred by compromises on the quality of students produced. Several surveys have shown that pupils from such public schools offering free education cannot read or solve simple arithmetic.
The introduction of free education at primary and secondary school levels has been shrouded in debate of undermining quality education since government policy does not allow kids to repeat classes after failing. Free education has basically been left to the poor parents. But the challenges in Uganda's education sector are not just about the introduction of free education and its implementation but other salient factors outlined below should be probed.
Opening investment in the education sector has attracted all manner of Ugandan investors. But questions on quality of education children abound. While liberalization of the education sector is a good idea, the ministry of education and sports is struggling with a weak regulatory framework.
Uganda's education is provided by government (public) and private investors. To a smaller extent the competition from providers of education has led to better quality. But there are several complaints of inadequate regulation of private education providers who seem more interested in profit making than good quality. Very few private schools are up to the desired standard.
In Uganda school strikes are usually about bad leadership not quality of education. Instead Uganda's education complaints have been from teachers especially at public primary school level over low pay, asking for better pay. Teachers have one of better organized trade unions. Their union has led strikes that resulted in closure of public primary schools for at least 2 weeks.
The liberalized education has enabled wealthy Ugandans put up private schools. But critics say the mushrooming schools add more to the quantity than to the quality of education provided in the country. The comparative advantage Uganda enjoys over regional countries has been fetching revenue of $50m a year, and this is expected to increase to $150m annually in the next two years. However, recently there are concerns over whether Uganda's education is still enjoying of the perceived high quality given the weaknesses in regulation.
In 1990s Uganda government liberalized the education sector without putting in place proper regulation mechanisms to ensure fair play, quality and affordable service. This is because whoever wishes to establish a private school can easily do it as long as they fulfill  the minimum requirements demanded by the Ministry of Education and Sports. The requirements include tenancy agreements (implying that even without ample space of land one can start a school in the verandah), initial capital of not less than $2040, a bank statement, memorandum of understanding or partnership deed if it is a joint venture, recommendation letters from local council authorities, and at least nine qualified teachers, five of whom must be permanent staff.
As a result there are categories of schools. Those for the poor, middle class and very rich. Somehow, the ministry of education has been good at granting school establishment licenses but poor at monitoring and evaluating if them. In the end, it has come to making a choice of sending a child to a better school and pay more or an average school and get average education. Is this fair?
Most of the schools with affordable fees (tuition) have poorly stocked libraries and laboratories and not many trained teachers. The ministry of education which is supposed to regulate and license the schools is grappling with corruption as some of its officials are private school proprietors.
With this arrangement, for how long will Uganda enjoy the comparative advantage it has had over the years in East Africa? Is the Uganda government abdicating its education regulation duties to private education businessmen and women? Why is the country offering two types of education (yet it is the same type of education on paper) for the rich and poor Ugandans? Is Uganda losing the quality of education battle to businessmen/women?
Tags: Africa, Bundibugyo, Business and Economy, Child, East Africa, Ministry of Education, Uganda, Ugandans