Job vs. Business – Where does your future lie?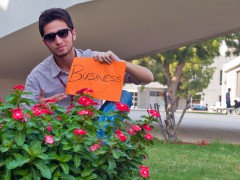 In one of my previous articles, I presented the lives of street vendors in the cities of Karachi and Hyderabad, Pakistan. The pictures gave a graphic description of the conditions in which lower class uneducated Pakistanis work, and what they think about unemployment and job conditions can easily be imagined. This time I decided to talk to business students at the Institute of Business Administration (IBA), one of the oldest business institutes outside the USA.
The question I hit on to get the students' views was straight and simple: Job or business? Why? On one hand, the students' reactions indicate that even the best education cannot guarantee a bright future in the job sector. Yet on the other hand, in a third world country like Pakistan, students feel that running businesses has also become fraught with insecurity. So where do they go? What do they do? What future does work hold in Pakistan?
Let's see the local views by some of the university students of Pakistan.
The entrepreneurship trend has put down roots in Pakistan in a very short space of time. I personally believe that the economy of Pakistan will flourish on the world stage as the country's young people have started to realize the importance of setting up new businesses. The idea of providing jobs rather than seeking them is definitely a constructive one in such economic circumstances. Pakistan has precious resources like coal and natural gas in abundance; if utilized effectively, they can change the economic map of the country.
Tags: Business and Economy, global economic crisis, job creation