Land Grabs and Post-War Development in South Sudan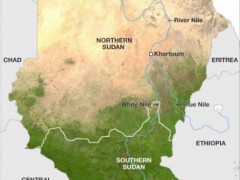 Land grabbing in Africa is not merely an issue of outside investors- governments and hedge funds- buying or leasing land. Land grabs are not simply the case of small farmers being acted upon by hedge fund managers, multinational corporations or governments.
In some cases, land grabs take place amid continuous conflict, in the grey area between state government jurisdiction and local government jurisdiction. In the case of land grabs in Magwi County, in Eastern Equatorial State, South Sudan, land grabbing occurs in the context of post-war development and state-approved foreign military presence which potentially undermines local (county) government authority.
South Sudan, which officially became an independent country on July 9, 2011, is Africa's newest autonomous nation. Because South Sudan is a newly independent nation with a history of conflict, land issues are of particular importance. Since 2002, the partly leading South Sudan's government, the Sudanese People's Liberation Movement/Army (SPLM/A), has turned away from its communitarian positions in favor of land privatization, emphasizing a need for and policy that allows for the commercialization of agriculture.
Most land (up to 90 percent) is owned by the state, but customary, communal land tenure is a common practice for Sudanese people- many of whom make a living in agriculture and fishing.
In the southeastern region of South Sudan, there have been allegations of Ugandan troops being involved in land grabs and illegal logging. Uganda Peoples' Defense Force (UPDF) troops have allegedly been distributing South Sudanese land to Ugandans. This is a salient issue in light of years of conflict and the resultant upheaval and displacement in northern Uganda. With the remnants of the Lord's Resistance Army (LRA) and their leadership (including Joseph Kony) presumably being confined to the Central African Republic and Sudan, the continued presence of Ugandan troops in South Sudan has been a point of contention.
Earlier this month, the South Sudanese leaders demanded the withdrawal of Ugandan troops, alleging their involvement in land grabbing and illegal logging. The leaders in Magwi County in Eastern Equatorial state demanded that the government of Uganda withdraw UPDF troops from their state. Peter Bongomin Ochilo, Commissioner of Magwi County, reported during a border meeting that the presence of the UPDF in the communities of Pajok, Pyam and Owinykibul causes "fear, tenstion and insecurity."
In light of the media visibility of land deals between government bodies and multinational corporations, land deals by soldiers in post-war areas where customary land tenure is the rule are an unexplored dimension of a very complex issue.  Not only is it necessary to take into account land tenure practices and land ownership, it is also necessary to look at post-war development.
Tags: independence, land grabs, post-conflict development, South Sudan, Uganda