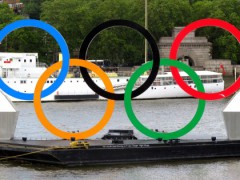 In theory, the Olympics are a rare opportunity for athletes from every culture and every country to compete on a level playing field. But the equipment and support that is needed to develop Olympic-caliber athletes is only available to people from the world's wealthiest countries. Do the Olympics highlight "free and fair" competition, or is it just one more scene in which the developing world's disadvantages are starkly visible?
Future Challenges authors from around the world share their opinions on the fairness of the games. Take your pick from the Local Views on the right!
Tags: developing countries, economic growth, equality, Health, inequality, London, Olympic Games, Olympics
Tom Fries
Erstwhile neuroscientist ('97-'00), rowing coach ('99-'10), business student ('07-'09) and cupcake entrepreneur ('09). Now enjoying international work in the Germany and Washington offices of one of Germany's most prominent think tanks.
Most recent Local Views on 'The olympics - a tale of two worlds'