Mapeando el bien común de Rio de Janeiro (Entrevista a Pablo de Soto)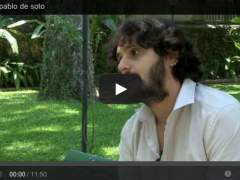 Abstract: Pablo de Soto is a young activist interested in the possibilities that emerge from the processes of globalization and the development of new technologies. Arquitect and PHD student from ECO (Escola de Comunicaçâo) in Universidad Federal de Rio de Janeiro, Pablo has given lectures and directed workshops involving these issues in more than 10 countries. Cofunder of Hackitectura.net, a laboratory dedicated since 2001 to investigate emerging territories for the transformation of public space, Pablo gives this interview to Future Challenges to tell us about his current project "Mapeando o bem comum do Rio de Janeiro" with the support of UFRJ's Medialab. 
Pablo de Soto es un joven activista interesado en las posibilidades que emergen de los procesos de globalización y del desarrollo de las nuevas tecnologías. Arquitecto y estudiante de doctorado de la Escuela de Comunicación de la Universidad Federal de Rio de Janeiro (UFRJ), Pablo ha impartido palestras y organizado talleres en más de diez países lidiando con estas cuestiones. Cofundador de Hackitectura.net, un laboratorio dedicado desde  2001 a investigar territorios emergentes para la transformación del espacio público, Pablo concede una entrevista a Future Challenges para contar en qué consiste su actual proyecto "Mapeando o bem comum do Rio de Janeiro", realizado con el apoyo del laboratorio en métodos digitales, MediaLab UFRJ.
Tags: Bien común, Brasil, Medialab