It´s all about real social cohesion!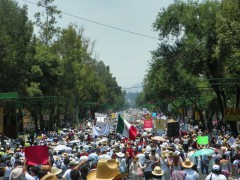 Everything started in August 2008 when all kinds of Mexicans flooded the Zócalo -the main square in the historic center of Mexico City –  with thousands of lit candles in a mass demonstration of their unease. The assassination of the son of Alejandro Marti – a renowned Mexican businessman – sparked the movement of the Mexican civil organization, México S.O.S. whose aim is to encourage civil participation in the legal establishment of good security conditions through the creation of new institutions in Mexico. Its main strategies rely on promoting law initiatives, media campaigns and creating an autonomous entity composed of citizens and organizations who monitor and evaluate government policies.
Since that moment, all kinds of pro-security social organizations have started to spring up in Mexico. Different perspectives have appeared in marked contrast to the (thus far) unilateral decision-making of the government. Javier Sicilia's "Movimiento por la Paz con Justicia y Dignidad" social movement, for example, calls for the demilitarization of the government's combat against crime. While their aim of creating a safer society is the same as that of the México S.O.S., the means they use for this common end are very different.
While society asks for peace, the Mexican government continues its war on organized crime. Through social development and military intervention, the Mexican government has been trying for years to regain control over criminal organizations, – with no success whatsoever sofar.
Why is this so? Social organizations working alone seem to be little more than stones in the government's shoes while some government decisions seem to be little more than deliberate slaps in the face of its own population. What's worth noting here is that without adequate communication between the government and social organizations, both will prove ineffective in a context in which everyday people strive for more  active participation.
This is precisely where the main strength of the "México S.O.S." civil organization lies: ever since it was founded, it has worked directly with the government and other associations to create viable communal solutions. While other organizations ­– such as Javier Sicilia's movement – tend only to complain about everything without really cooperating in the search for alternatives. México S.O.S. has been able to cooperate effectively with the government and the private sector to really represent the popular will – not just individual demands.
Years of postponed decision-making in Mexico have left the country instable and insecure. Without greater coherence, the unilateral work of social organizations won't – in the majority of the cases – be truly successful. On the other hand, governmental policies will continue to fall short of the mark if there is no support from the people. It is necessary for both parties firstly to work together so they can later on incorporate other national and international actors into their cause.
Let's imagine a hypothetical situation in which a Mexican pro-security social organization works together with the government, and later enables communication with a similar civil organization from abroad. The outcome here would be very different because: the more like-minded the social components are, the more efficiency there will be . Social actions without the support of proper institutions are as useless as a government without real popular support and cooperation. So, collective action is the key… it's all about real social cohesion!
Daniel Kapellmann is a member of Global21, a student network of international affairs magazines and a partner of FutureChallenges.
Tags: citizens, coherence, collective action, Government, Mexico, organized crime, social organizations