Mobile Banking in Myanmar: No Gold Rush Yet!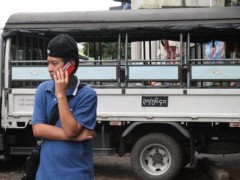 This was the first time I bought something on the black market. Yet I would have expected to have to enter a semi-legal market for purchasing other items than a perfectly ordinary SIM card. But when the Myanmar government stopped issuing temporary SIM cards in July 2013, the only way for foreigners to keep using their mobile phones was to buy a second hand SIM card or get a SIM card through a Burmese person that applied for it and sold it to you afterwards. And this is what I did as well.
After this experience, and given the fact that this 150 USD SIM card stopped working after just one month, I somehow started wondering why McKinsey and Deloitte so enthusiastically praise the potential of mobile banking in Myanmar. I work in the Myanmar financial sector. And there is hardly anything that could not be improved, be it regulation and supervision, financial services or human resources.
Mobile banking refers to banking services that are delivered via mobile devices, such as cell phones. Bankers define mobile banking as a sub-category of branchless banking which encompasses all financial services that are delivered outside bank branches, for instance via so-called point of sale (POS) terminals in shops or via automated teller machines (ATMs). In Myanmar, there are hardly any POS terminals and ATMs were only reinstalled in late 2011 after they vanished during the Myanmar banking crisis in 2003. In 2011, 17 of the 25 banks in Myanmar founded the Myanmar Payment Union (MPU) which seeks to promote the Myanmar payment system, notably by using electronic devices. However, their strategy for the upcoming years does not seem to include any plans for setting up mobile banking.
In Myanmar, mobile phones have only been available to the general public since the newly elected Government under President Thein Sein started a large reform process in 2011. As of December 2012, mobile phone penetration in the country had reached 9% (Lao PDR: 90%), one of the lowest rates worldwide. But in order to promote socio-economic development, the Myanmar Government is now actively pushing the mobile phone sector. After an international call-for-tender, the Government granted two exclusive operating licenses to Telenor, a Norwegian telecommunications provider, and Ooredoo, a telecom based in Qatar, in July 2013 (and that was probably the reason why they stopped giving out affordable temporary SIM cards and turned me into a punter on the black market). The Government wants these two companies to reach ambitious targets: by 2016, they should serve 80% of the Myanmar population (approximately 48 out of 60 million people). Telenor and Ooredoo probably have enough experience to reach this objective. And McKinsey's forecast of 150% mobile phone coverage in Myanmar by 2030 also seems realistic given the speed of technological development, particularly in Asia.
But the big question remains whether telecom operators can find banks to partner with, and eventually make the "digital leapfrog" leap to branchless financial services forecast by McKinsey come true. Of course, given their extensive experience garnered in other countries, some reform steps towards a high-tech banking system could be skipped. And pioneering the mobile banking market can entail high reputational and financial gains for telecoms and banks as with M-PESA in Kenya.
However, banks have to cope with many challenges right now and they need to first set up proper risk-management mechanisms before entering the mobile banking market. Using mobile devices makes access to finance easier and can lower banks' operational costs. But technology bears its own risks and without a personal, regular contact with their clients (the Know-Your-Customer principle), banks providing mobile banking services might take client risks they actually do not want to take. Additionally, a proper legal framework that delineates the rights and responsibilities of the financial and the telecommunications sector has to be put in place – and this will still take some time in Myanmar.
The potential of mobile banking in a country like Myanmar, where approximately fewer than 90 people live on one square kilometer and where the outreach of banks remains a key challenge, is without any doubt worth considering. But the potential  – and particularly the challenges  – in the telecommunications and the banking sector should be analyzed thoroughly before proposing  a gold rush into mobile banking in Myanmar.
Tags: Bank, Burma, developing countries, financial markets, mobile money, Mobile Phone, Myanmar, southeast asia