Mobile Phones, Internet and Social Media Use in Kenya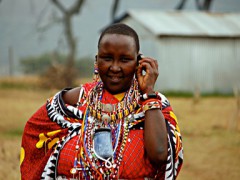 In the developed world, communication has been easier as everyone in one way or another has a telephone line even before the coming of mobile phones and internet. The same could not be said about Africa. Up to around the year 2000, only offices within major urban centres had telephone lines.
You can say there were public calling booths but they were used to connect people in different towns or urban centres. Then came the mobile phones and everything changed. As per the time of writing this, according to statistics by the Communication Commission of Kenya, Kenya has over 29 million mobile users out of a population of about 40 million. That is mobile penetration rate of about 75 per cent.
Considering that majority of Kenyans are under the age of 20, it means the entire Kenyan adult population is now connected through mobile phone in a way.
What this did to Africa is to make it easy for people to communication both within and out of the country. Doing business became easy and faster. Even though the road networks and rail systems are not well developed, thanks to mobile phones people are able to do business quite easily.
Internet Connectivity and Social Media
The internet through emails has become acceptable means of communication between businesses and even Government departments. With the improved functionalities of mobile phones, like sending emails, and accessing social networks, Africa is benefiting from the mobile telephony in many ways.
There is still argument whether social media play any role when it comes to administrative issues but I personally think it does, especially in Kenya.
Recently when doctors went on strike in Kenya demanding salary increase, they took to social media to argue their case. Through that many Kenyans came to learn a lot about the bad state of Kenyan health-care system and how Kenyan public hospitals are being badly run.
The Finance Minister gave in to their demands and went to the Parliament to ask  MPs to approve new taxes to help the Government raise money to pay doctors and teachers who had gone on strike at the same time. Unfortunately the MPs who are facing elections next year became greedy and secretly introduced hefty send-off severance payment package for themselves on that bill before passing it.
When the news broke out, the Kenyan Social media was on fire with people calling for the President Kibaki to reject the bill and others circulating the names of MPs who were in the house that day on blogs and Facebook. Peaceful Demonstration was organized through Twitter and people took to the street marching to the gate of the Parliament. Later the same day the President rejected the bill and sent it back to the Parliament.
Now each African country has followed a distinct path but the turn around seems to have come up almost at the same time. The conclusion I get from that is that they have faced the same challenges.
How is government, civil society and NGO's using social media and internet in your communities?
Tags: Africa, Kenya, Kenyan, Member of Parliament, mobile, Mobile Phone, social media