2nd Latin American Digital Media and Journalism Forum in Mexico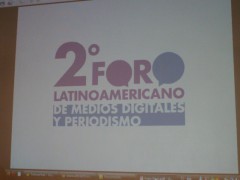 The 2nd Latin American Digital Media and Journalism Forum is taking place this week in Mexico D.F. Different guests from the region will join a discussion on the tools needed for digital media, the new challenges to be accomplished by journalists in digital times and how to build a constructive dialogue with the readers.
Our Regional Editor from Latin America, Jacinta Escudos, is participating in these discussions. The event is organized by Factual_, Universidad Iberoamericana, Google Mexico and Distintas Latitudes (Digital Magazine). We will be streaming this event live, starting Friday morning at 9:30 a.m. (Mexican time). Discussions will be in Spanish.
Viewers will be able to participate sending questions via Twitter with the hashtag #MediosDigitales. We hope you join us and share the link to the streaming.
You can see the discussions of the event here.
* * *
Esta semana se lleva a cabo el 2o. Foro Latinoamericano de Medios Digitales y Periodismo en la ciudad de México. Diferentes invitados de la región discutirán sobre el uso de diferentes herramientas  en los medios digitales, los nuevos retos que se presentan a los periodistas en la era digital y cómo construir un diálogo constructivo con los lectores.
Nuestra editora regional para Latino América, Jacinta Escudos, está participando en dichas discusiones. El evento es organizado por Factual_, Universidad Iberoamericana, Google Mexico y la revista digital Distintas Latitudes. Estaremos transmitiendo el streaming del evento a partir del viernes a las 9:30 de la mañana (hora mexicana).
Se podrán hacer preguntas o comentarios via Twitter, usando el hashtag #MediosDigitales. Esperemos puedan seguirnos y ayudarnos a difundir la información.
Puede ver las discusiones del evento aquí.
Tags: Digital media, journalism, Medios digitales, Mexico, periodismo