Contagion. Future Challenges Reader Volume 4 is Published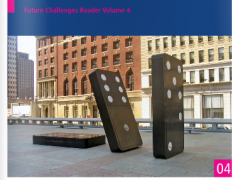 We have published our fourth in a series of Future Challenges Readers!
This volume examines the costs and benefits of the growing economic bonds between countries all over the world. While ever-greater trade and financial flows between countries bring countless benefits, they also create the danger that a catastrophe in one economy will "infect" economic partners around the world.
We have asked our bloggers the following questions for our content package Contagion:
How does the current economic crisis in many of the world's developed countries affect less-developed nations? Are there changes in remittances, changes in migration, or other important effects? How can we ensure that our growing connectivity makes each of us stronger and more resilient to crises?
We picked the best blogposts for this Reader. It features writings from Brazil (Luis Felipe Morgado), India (Anuja Upadhyay and Ajinkya Pawar), Bosnia & Herzegovina (Velma Saric), Egypt (Sara Elkamel), Mexico (Daniel Kapellmann), Hungary (Daniel Vekony) and Uganda (Mubatsi Asinja Habati).
This 4th volume is again published under a Creative Commons CC BY-NC-SA 3.0 license. So please feel free to use the texts for non-commercial purposes!

Here you will find our previous Future Challenges Readers:
Tags: economy, GLOBALISATION, globalization, interconnectedness, jobs, megatrends, trade, world economy