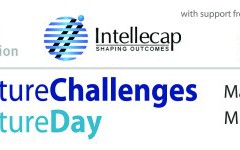 What are "Future Days"? They're opportunities for us to meet one another, get out of our daily routine, and tackle some of the most challenging issues that face our regions. They are reality checks: Are our debates and conversations on the right track? When we talk about how to battle poverty, or how to ensure that the benefits of globalization spread across our societies from top to bottom, are we looking at the components of these issues accurately? It's a chance for us to push against one another, challenging one another's perspectives as we develop a better understanding of distinct, concrete issues that we face.
Future Day Berlin focused on demographic change and its impacts worldwide. Future Day Nairobi looked at regional integration in East Africa, examining the likely winners and losers and the perspectives of young people. Next we're in Mumbai, India, working with partners Intellecap and the Rockefeller Foundation to identify what young people can – and must – do to be the business, social and political leaders that their nation needs to succeed in the twenty-first century.
India's major cities are crucibles of urban innovation and case-studies in the mega-cities in which more and more of us will live in the years ahead. There are lessons here not just for India, but for us all. Working with enthusiastic speakers from education, industry and civil society, we'll tackle some serious and exciting issues for the next generation of leaders in India and elsewhere:
Guts: What It Takes To Follow Your Heart
Finding The Balance: Coping with Social Change
Platforms: How Business Can Build Young Leaders
Got something to say on any of these issues as a note, photo, quote or audio recording? Send it to us; we'll post the best content to the Future Day Tumblr.
We want you to join us, online or offline. If you're in Mumbai and want to join us on March 5th, you can either apply to attend as a student or RSVP as a professional/community member.
We've got two discussions open on Quora:
What are the new skills that great leaders need to be successful in the 21st century?
What will it take to be a great leader in 21st-century India?
Future Challenges has been working together with the Rockefeller Foundation and the Searchlight Grantees on this series of Future Days; we hope to see you in Mumbai, or at our next event!
– The Future Challenges Team (Ole, Nicole, Anneliese, Tom & Mario)