Salzburg Trilogue: Politics may divide us, but borders less and less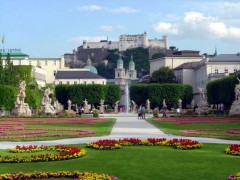 The Salzburg Trilogue, as the name indicates, is held in a beautiful town in the Alpine country of Austria. Salzburg's European heritage is visible everywhere from the Ancient Greek-style statues in the Mirabell Garden to the striking medieval Hohensalzburg Castle. Though a relatively small town of 150,000, there's a kind of cosmopolitan finery: You can tell it was at wealthy core of a multinational empire.
And as this is Europe, there was no escaping discussion of the long, bitter economic crisis that has been afflicting the continent. It can't help but demoralize: What are the odds that the nearly 200 nations of the world will be able to reach agreement on fundamental issues, when European nations with their common history and culture cannot?
But some of the speakers were upbeat. One referred to Europeans as "congenital pessimists," too ready to denigrate their achievements, lacking the immodesty and optimism of self-promoting Americans. And he added that Europeans, at least, are trying to deal with issues of environmental sustainability and social equity. In the U.S., one political party more or less completely rejects these concepts and is able to provoke gridlock in the entire political system.
A senior European executive present was also more positive. He described how his work has dramatically changed since the 1980s: Purely national marketing no longer makes sense for many products; travel between countries is immeasurably easier; English has firmly established itself as the effective working language across Europe for businesspeople (and many others too). He concluded: "We have pretty much a European society."
In historical terms, three decades is nothing. It is a blink of an eye. And anyone who has lived in Europe over this period can attest to the difference. Whatever our politics, barriers and the "Otherness" of others are being constantly reduced: by consuming the same (mostly Anglo-American) music and film, through EasyJet flights and Eurorail passes, and now especially through the Internet. This is a work of generations but this kind of progress in breaking down humanity's divisions, across the world, is steadier than ever.
Tags: borders, Europe, Salzburg Trilogue